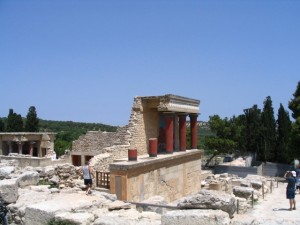 Role over Rhodes and make way Mykonos! Adrian Gillan hits Crete – birthplace of Zeus; and the Minotaur!
By far Greece's largest island, covering 3,200 square miles, Crete lies just 125 miles north of the African coast, with a resident population of around 700,000. The glories of the mighty Minoan civilisation (flourishing 2000BC-1500BC approx.) still litter the land; and the sun-drenched northern resorts remain rightly dwarfed by peaks rising to almost 2500 metres, vast goat-filled olive groves, plus deep gorges and caverns.
The island has outlasted myriad invaders – from Romans and Byzantines, through Arabs, Ottomans and Venetians, to integration into the modern independent Greek nation, German invasion, then liberation! Throughout it all, Crete has maintained a fierce identity well-nigh bordering on independence. High up in the mountains, its plucky resistance fighters were famously never defeated by any invader – and even remained mercifully aloof from the post-WW2 civil war that ravaged mainland Greece.
TO SEE & DO
Heraklion – Bustling capital with stunning colossal Venetian city walls and harbour fort; plus world-renowned Archaeological Museum brimming with Minoan treasures, mainly preserved from nearby Knossos!
Knossos – Crete's most visited attraction, just a 15 minute bus ride south of Heraklion, featuring great palatial ruins, once covered in exquisitely preserved ancient murals and frescoes. And – who knows – did this warren of halls, lobbies, corridors and stairways once constitute the famous labyrinth where Theseus confronted and defeated the man-bull Minotaur?
Gortys – Ancient capital of Crete in Roman and Byzantine times, rich in ruins!
Ágios Nikólaos – Eastern Crete's most picturesque town, with wonderful colourful harbour, not to mention sandy beach and vibrant marina! About 1½ hours by bus from Heraklion.
Toplou Monastery – On Crete's Eastern tip, famous for where monks tried to hold out against Turkish invaders!
Lasithi Plain – Rural idyll in Eastern Crete, home to the Dikteon Andron cave where great Zeus was supposedly born!
Samariá Gorge – Trek through Europe's longest gorge, in Western Crete.
TO BOOZE 'N CRUISE
Crete's scene is small, with just one gay bar proper, in Malia; a few gay-friendly places in capital Heraklion and other towns; plus numerous nude beaches.
HERAKLION
Pagopiion (front of Agios Titos church, Heraklion) – Stylish gay-friendly café-bar in the city centre.
Desire (Esplanade, Heraklion) – Gay-friendly club on the capital's seafront, just before the stadium.
Georgiadis Park – Gents oft take nocturnal airs in the park just over the road from Eleftherias square.
Kazantzakis Monument – Restless men oft take strolls above Plastira Street, near the monument to the great Greek writer.
MALIA
Eros Bar (Em. Tsagaraki, Malia; T: +30 694 6489148;) – The only dedicatedly gay bar on Crete, in Malia, 15-20 miles east of capital Heraklion.
Malia Beach – A famous beach for nudism with a lot of tourists; and gay cruising at the rocky area.
OTHER USEFUL CONTACTS
Aegean Airlines offers frequent daily flights from London Heathrow to Crete via Athens from just £219 return, inclusive all taxes and charges.