Katherine Ellis – The voice on everyone's record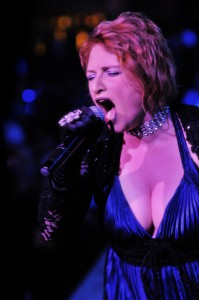 She's been singing in bands since she was a teenager and provided backing vocals to a number of top artists. What's more, there can hardly be a gay venue in the UK (and perhaps the world) that hasn't resounded to the vocal talent that is… Katherine Ellis. The lady has music in her blood and a voice that is much in demand from top record producers but which one does she like to work with the most?
It is all of them of course, I'm very lucky that I work with extremely nice people, most recently it would have to be the Freemasons, we have done a lot of gigs together as well, in Australia, UK,  Croatia, Belgium etc, it's always great fun being with them.
Dave Lee, Roger Sanchez, Dylan Rhymes, Bimbo Jones, all fab!
Is there anyone you'd like to work with you haven't had a chance to yet?
Laurent Wolf, Fedde LeGrand, Calvin Harris, David Guetta… loads of great producers out there!
At one point in your career you were backing singer on various tours by artist like Boy George and Belinda Carlisle… did you enjoy the touring element?
Touring with Belinda was amazing, we performed in a football stadium supporting Rod Stewart, we supported James Brown at a Private party and performed for Mclaren at the Grand Prix in Monte Carlo!  We also toured Europe and went to Japan, the musicians were amazing and it was a lot of fun to work with other singers and great experience to see how a Big Artist works. I actually worked with Boy George fairly recently, we both took part in an event to celebrate what would have been Marc Bolan's 60th Birthday at the Café De Paris, London, I did my own set and also did backgrounds for George, it was a total thrill, I have always been a fan.
You've fronted many bands and become the 'featured singer'… when are we going to see Katherine Ellis topping the bill at the O2 Arena in her own right?
Wouldn't that be great!  I have such a wealth of material and styles, I have a cabaret act with my friend Clifford Slapper, which is really funny. I reckon I could do a 'One Woman' show and take the audience on a huge emotional journey and perform jazz, blues, soul, funk, dance, do some impressions too!  It would be FAB!  If anybody wants to help me… get in touch!
We often see you appearing at gay clubs up and down the country, do you particularly like this audience?
Yes I do!  Gay audiences are always very warm and really up for having a party!
Some stand out shows I've done this year have been at Mardi Gras Sydney, Market Melbourne, Arq Sydney, Metro Sydney, Essential Manchester, Flamingo Blackpool, Queen Paris, Water Polo Champs Party Malta,  Manchester Pride, Soho Live,  Honey Club Yaroslavl and Pavlin Kiev – I list all these because the vibes were outstanding.
You're a mum so have you noticed if your kids have inherited their mother's talents?
My eldest son Zebedee definitely has, he has a very loud voice and a very strong singing voice, can impersonate other singers and writes songs! I took him to Gaydar Radio recently and he did some idents for Phil Marriott, 'This is Zebedee Ellis, Spawn of the Diva!!'  My other son Gulliver is learning piano and loves his music, he is more the Producer/DJ type
Are there any new projects we should keep our eyes (and ears) out for?
There is a re-release of my 1998 anthem 'Dreaming' with The Ruff Driverz, which is out via Maelstrom. You already know about 'You're mine' with Lewis and Alberto from Solitaire, that's out now via K Klass' label, Muzik K. Then there's 'Time 2 Play' with Soulshaker (Audiofreaks) and a full release of 'Gotta Get Through' with Paul Emanuel & Gav McCall (Born to Dance Records). 'Be With U Tonight' with Beaver & Jones and 'Ready for Love' with The Str8jackets will follows sometime in the New Year as will collaborations with The Studiopunks, The Addict DJs and 7th Heaven. So as you can see I'm definitely being kept busy!
Solitaire & Katherine Ellis
'You're Mine' is out on 7th December on Muzik-K Records UK. www.myspace.com/muzikkrecords