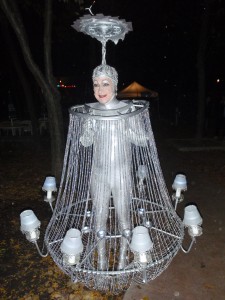 Halloween is a special time in any Torontonian's calendar. Rather than celebrate on just one night, like we do, they instead throw a whole week of celebrations: Halloweek. This year, festivities were wide and varied, held outdoors and indoors.
George's Play held their own Drag and Leather Boo-Zaar and Psychic Fair, where drag, fancy dress and leather items were sold off to raise money for charity. Previous events have seen the venue raise tens of thousands of dollars for good causes, and certificates of achievement hang proudly on the wall for all to see.
Pride Toronto also throws a Halloween party in Cawthra Square Park on Halloween proper. Beverage gardens, a live stage of DJs, processions of drag queens and a fantastic fancy dress competition at 7pm are all part of the fun. This year's winner was a rather creative chandelier. International drag superstar Sofonda Cox hosted this year's competition, and was joined by judges from local TV, radio and the scene
Halloweek's All Hell Breaks Loose party is the culmination of the day's celebrations, with Church Wellesley Village closed to vehicles, and the Halloween Block Party taking place in the middle of the street
Following, most revellers choose to move onto Fly Nightclub for their late night excesses. The strange, maze-like nightclub has a downstairs network of rooms that snake up to another two levels. The crowds here are incredibly eclectic, with slim young chickens bouncing along beside grisly bears, muscle Marys and disco bunnies.
Finally, to top it off, local tour guide Bill Genova offers a very special ghost tour of the city, that ranges from Trinity College, University College, E. J. Lennox's YMCA to Osgoode Hall. The tour tells of murders, treachery and infidelity, and is the perfect ending to a fabulous Halloweek.
Acknowledgements
Thanks to Tourism Toronto, Pride Toronto, Fly Nightclub and Bill Genova for all their support and guidance in putting together this feature.