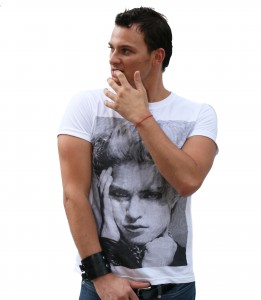 There's more to Australia than Kylie, Kangaroos and Summer Bay but we don't often get the chance to shout about a new talent to hit the scene. Out and proud Sydney boy Damien Mancell offers the world his take on the most perfect piece of 4 minute pop, electro, dance music… his self penned tune… Be With You Tonight!
After working on countless projects for other artists, Australian singer songwriter Damien Mancell finally goes it alone with his first solo release. His groundwork in production as a writer & producer has earned him the stripes to finally take centre stage. Having started musical theatre at a young age, Damien was your typical "showbiz" type child. Going from drama, to dance to singing, Damien worked on everything from stage productions of Charlie and the Chocolate Factory, to dance competitions. "I won my first singing competition at the tender age of 4, singing Kiss' 'I Wanna Rock and Roll All Night' at a local shopping centre. I was probably cute as a button, but I worked it. Even at age 4". This early taste for performance led him into a career that would take over the rest of his life
"When I left home, I worked with anyone, on anything. From plays, to script readings, from film contributions, to drag shows. I became friends with designers, singers, producers, film directors, drag queens, performers. Each piece of the puzzle made up a valuable experience, which hopefully I can take to my own work. I wasn't thinking about the gain for myself, I was creating art. Whether it be backing vocals, which I have done too many to count, to helping produce some form of artistic statement for someone else's vision, this journey has been a long, yet colourful one. I had worked with theatre as a young adult, had worked with some underground bands, did the odd dance/cheerleader show, and was always called for doing vocals for DJ's underground dance tracks. I never knew where they ended up, but I was just happy to contributing". Whilst working on floating projects for people, Damien developed a good grasp of songwriting & production. His confidence grew as a writer, and as a singer of his own voice. Take a dose of George Michael add a spoon full of Daft Punk a touch of Kylie Minogue and a whole heap of Europop and you get Damien Mancell.
Photo:   Mark Dickson/MHD Photography