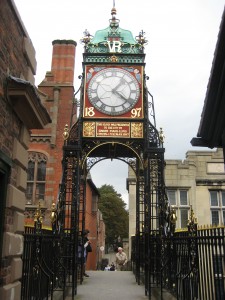 Adrian Gillan grins wider than a Cheshire cat in historic, and surprisingly queer, Chester!
Hugging the North Wales border, Chester is one of England's most historic towns – with significant remains dating back to Roman times, contrasting most pleasantly with its present-day roaming hoards of hot young boyish cuties… and the cast of Hollyoaks.
Indeed, this wonderfully walkable city is crammed with things to do and see, including its unique and famous well-nigh complete City Walls, with their "Wishing Steps"; the canal and locks; The Rows (two-tier shopping galleries dating from the Middle Ages); the Cathedral; Roman Ampitheatre and old-stone-brimming Roman Gardens; historic Roodee racecourse; and even the second-most-photographed clock in Britain after Big Ben – the Eastgate Clock.
There are a whole host of walking tours, two of the best of which are History Hunter,which traces 2,000 years of action-packed history from the 20th Roman Legion building Fortress Deva to repel Welsh Tribes, through William the Conqueror's armies building a Norman strong-hold, to Cromwell's troops besieging Royalist forces in the town, during the English Civil War; and A Taste of Chester www.tastecheshire.com) including samples of local produce from around the region – and not just cheese!
Feet too tired? Then hop on a live-commentary CitySightseeing bus, Apr-Oct. Or take a river cruise on a ChesterBoat (www.chesterboat.co.uk), running throughout the day, throughout the year – a relaxing 30 minutes afloat, journeying up and down the River Dee, beneath the Suspension Bridge, past Grosvenor Park and The Groves, following the long sweep of The Meadows.
Chester is by no means purely a city of the past. It can offer up-to-the-minute entertainment and excellent shopping facilities – plus loads of young hotties, on an emerging gay scene!
TO STAY & EAT
The Queen (City Road, Chester; T: 01244 305 000; www.feathers.uk.com/queen/) – The 4-star gay-wooing aptly-named Queen is one of the finest hotels in the north of England, close to Chester railway station plus all scene 'n sights. This whole grand affair – that has hosted Charles Dickens, Lilly Langtry and Cecil Rhodes over the years – also boasts highly creative and contemporary, oft camp and tastefully kitsch, design. In 2008, the Queen became the largest hotel in Chester – through the creation of the "Kings at the Queen", a superb conversion of an adjacent building into a further 87 super-deluxe suites and an executive lounge, bar and restaurant. Enjoy afternoon tea in the magnificently restored Albert Lounge; a pre dinner drink in the Waiting Room Bar; or a full meal experience in the King Quarters bar and restaurant; or just chill with a dink on one of the two Italian terraces! Some of the sexiest hotel staff in town too!
Oddfellows (20 Lower Bridge Street; T: 01244 400001; www.oddfellows.biz) – Chester's latest city hot spot: a Bohemian private members club and a fabulous champagne bar, plus four boutique bedrooms!
TO BOOZE 'N CRUISE
The student-thronging gay scene is clustered neatly in or near the Old Town centre…
Bars & Clubs
Liverpool Arms, a.k.a. "The LA" (79 Northgate street; T: 01244 310 232) – Traditional gay pub of over 20 years' standing. Recently refurbished, and friendly; a good warm-up to Bar 6T9.
Bar 6T9 (1 Boughton; T: 01244 313 608; www.myspace.com/bar69official) – Main gay venue, just east of centre, open 'til 2am most nights, closed Tues. Usual diet of karaoke, plus weekend DJs.
Sauna
Dolphin Sauna (129 Mount Road, New Brighton, Wirral, Merseyside; T:  0151 630 1516; www.dolphinsauna.co.uk) – Closest steamery, nearer Liverpool than Chester though!
Taking airs
Old City Wall – Section due north east of Cathedral; also the adjoining small triangular wooded area hemmed in by canal, walls and car park. As ever, beware!
OTHER USEFUL CONTACTS