Phil Olivier – Song and Dance Man?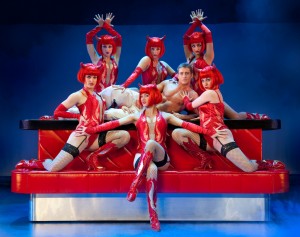 Philip Olivier stars as 'Dirty Harry' in the National UK tour of Never Forget, the hit musical with the songs of Take That. Featuring the incredible catalogue of songs by Britain's favourite boy band, Never Forget is a feel-good romantic comedy about triumph over adversity – certainly the perfect antidote for the today's troubled times.  Bent spent a few happy moments chatting with the star before he had to dash off on his round of never ending interviews.
It has been a few years now since Phil left Hollyoaks and his character of 7 years, Tinhead. However, since that momentous decision he has made quite a name for himself in other areas of TV; The Games, Come Dine With Me, Hollyoaks in the City, as well as Ghost Hunting with Paul O'Grady, all of which have made him very popular with his gay fans. Yes, there are quite a few. They've really stuck with me, which is good… they've really kept me out there. I mean, buying the calendars and stuff… they've had a real big impact on the jobs I get as well… and I don't think they realise it. They have got me many gigs… so a big THANK YOU to all my gay fans.
Despite his varied career the one area that he wasn't expecting a call-up from was… to appear in a musical. "When they came up with the offer I said to my agent -Why are you agreeing to this you know I can't sing." Not a very auspicious start for either Phil or the production and things only got worse. "I went down to the rehearsal studios and I thought 'Whoa'… it was like Fame Academy… leg warmers and stuff and I thought Oh my God what have I let myself in for. They gave me a song to sing and I've never sung in front of anyone but my showerhead before. Afterwards I walked away from the audition saying never ever again."
Regardless of Phil's own doubts, he was offered the part and with the encouragement of his manager took on the role of Dirty Harry… the sort of Gary Barlow character, in the show. "Once I started rehearsals I thought this was the worst decision I'd ever made in my life. Multi award winner Karen Bruce was the choreographer and it was just so hard… and if you've never danced before it's like teaching a brick how to swim." That initial introduction to the world of musicals was a bit of a revelation for Phil and he begged his agent to try to get him out of his contract. "I called my agent and told he had to get me out of this. The producers said they would give me extra tuition and training so, I stayed behind an extra 2 hours every night. Then in the last week of rehearsals, I got one routine right and after the rest of the cast gave me a round of applause… I thought… yes… I can do this. I put all my energy into making it work and it's finally paid off."
My final question was – are we going to be hearing a 'Phil Olivier Sings' album in the near future? His loud laugh at the prospect really gave me the reply I needed but then he added… possibly jokingly and just before he was whisked off to his next interview… "Never say never"
Never Forget is on tour across the UK until December and at
Alhambra – Bradford – 21st – 25th July  Box Office on 01274 432000
www.neverforgetthemusical.co.uk