Johan's Blog – Summer fun and a dash of Pride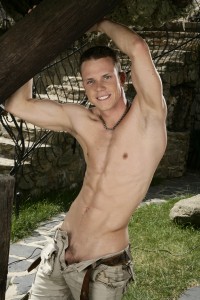 Hurray! At long last it's summer, and we can finally get to enjoy the sunshine – and the holiday season is at last upon us…
Here in the Czech Republic we've waited far too long for the first warm and sunny days of the year but now, finally, we can begin to spend some time outdoors.
I spent a long weekend with a very good friend of mine, hiking in the woods in the northern parts of the Czech Republic. Due to our country's geography, we don't have the sea or beaches to enjoy; although sometimes the lakes and forests can be even better. Especially when you plan something special and don't want to be disturbed. It took us approximately three hours to hike through the woods, at which point we arrived at this small, glittering lake. Kilometres from anywhere, the romantic waters lay right in front us, surrounded by trees and the greenery of nature. Of course, being hot and sweaty, we immediately stripped out of our clothes and jumped straight into the cold water. The job of building our tents could wait.
You can probably imagine what happened in the water and afterwards when we came back out. First there was some rather shy and innocent touching; followed by kissing, wanking and (you know me) shagging. The obvious things, given that we were two extremely hot guys out in the wilderness together. I just hope my boyfriend doesn't read these lines. Hey, he still thinks that I'm Mr. Innocent!
Still, enough of my horny stories for now …
The arrival of summer means that the Pride season is well underway – not unnaturally – I've been invited to quite a few events in Germany. I've already visited Berlin, Hamburg and Munich, for what are always events of tremendous fun. As you probably know, Pride started as a political demonstration, but these days it's more of a street parade, with a weekend of parties, cute guys and lots of horny sex.
Luckily, I've always been invited to share a truck with the clubs that host our Staxus parties (www.StaxusOnTour.com), which means that I get the very best view of all the fantastic, cute and mega-horny folk joining the parade. Unfortunately, however, most of the guys around me on the truck are usually much taller, better looking and more muscular than I am. As a result it's sometimes really hard to get the attention of the crowd, who always seems to be watching other guys rather than me. Still, I've taken a load of photos and have posted them on my site for you to enjoy (www.Johan-Volny.com)
I have to work in the evening of Pride weekends because we are always booked for a variety of different shows in the city clubs – but the people attending such parties are totally different to the crowds that gather on the streets earlier in the day. For example, we had a show the other week in Berlin where we engaged in wanking and blow-jobs on stage. It was a Pride "Gays and Friends" Party, and the crowd was in a perfect state of wild expectation!
When we came on stage and began our show there was a lot of applause and shouting; but by the time we'd finished we noticed there was only girls standing at the front of the audience, each one with open mouths! Clearly they hadn't ever seen anything like our performance before, and were rather shocked to begin with – though it hadn't taken very long before they were cheering like crazy! As for the boys … well, they'd all got so hot during the course of our show that they'd had to leave for the darkrooms to relieve their sexual excitement, no doubt trying out for themselves some of the things they'd seen us do on the stage!
It's funny, but gay sex sometimes really does seem to be more interesting to girls than it does to boys. Still, one thing I did learn is that girls are more generous than guys – after all, a number of them invited me out for drinks and even gave me their phone numbers too!
To me – a gay guy! Hey, sometimes girls are just hopeless!
Photos: www.staxus.co Carsten Schlink