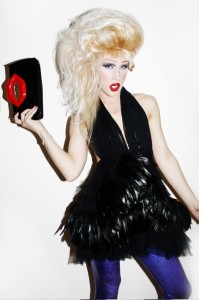 She's striking, she's witty, she's fierce and she is quite probably the finest DJ, TV personality, party planner and fashion icon in fair London town… well so says her blurb… and who the hell are we to argue. Jodie Harsh is friends with the stars and much in demand for her own clubbing events… one of the biggest, Circus, takes place during London Pride. As the final layers of hot-pink lipstick were applied, Bent got the lowdown of this legend of the capital's nightlife.
What did you do before the music and drag got hold of your 'bollocks'?
That's no way to speak to a lady! I left my home town of Canterbury and moved to London aged eighteen, because I heard the streets were paved with lip-gloss. And they were. I studied at London College of Fashion, doing a BA in journalism and PR, but in between lectures, I was practicing make up in front of the mirror, before I unleashed Jodie on the nightlife scene. I started off dancing on the bar at Heaven, then launched my own club nights, and then became a DJ because we didn't have anyone else to play the early set without being paid! I graduated, and it all kicked off from there really…
If all this hadn't turned out the way it has… what would you be doing now?
I went to stage school as a kid, so perhaps I'd be dancer or actor/ actress! I went to LCF because I thought a career in fashion would suit me. Needless to say, I was obsessed with Ab Fab, but the reality of the fashion industry couldn't be further from the truth. Being a DJ and club promoter has certainly brought me closer to becoming Eddie and Patsy than being a PR ever would.
Does being in drag mean everything to you… or is it just a part of who you are… and do you think you'd be where you are now without it?
I love doing drag. It's a creative expression. I love the getting ready process, becoming an exaggerated persona, and the places it's got me. I am a music obsessive and fully believe I'd still be an established DJ without the wigs and heels, but having a recognizable image with no one else looking like me has certainly got me noticed quicker.
I don't think I really consider myself a 'drag queen'. Isn't that term a bit dated? I just dress up in my glad rags when I'm on the decks or on the dance floor, which is very often! I don't try to look like a woman, more like an exaggerated Barbie doll with better dress sense. I just dress up and express how I feel I should look.
When were you last star-struck?
I met Madonna for about 90 seconds a few years back. I was so star struck I didn't really know what to say. I've been a fan forever, so it was a strange experience. I did a fashion show for Naomi Campbell's charity during London Fashion Week and there were so many recognisable faces on the catwalk with me – Cilla Black, Cheryl Cole…but Vivienne Westwood came over to say hi to me and I was utterly honoured she took the time to do that, because I've got so much respect for her.
Who has been the most influential person on your life?
My Grandmother keeps me grounded – she is 89 and my biggest fan. She is the most generous, kind, caring person I have ever met and I wish I were more like her. It's very difficult not to be selfish and a bit self-important in this day and age. I get my organisation and business head from mum, creativity from Dad, and look up to gay people who have lived their life exactly how they've wished, no matter what the consequences are, such as Quentin Crisp, Boy George, Oscar Wilde, even Pete Burns.
What does Pride mean to you?
A lot, actually. I have been on Pride Marches since I was in my mid teens. It's important to have a day when everyone who doesn't fit into the social stereotype of what is 'normal' comes together and just say 'I am proud to be me'. The notion of Pride can be as political as you like, or it could just be you being comfortable in your own skin. There is so much hate in the world brought on by religion, money, politics, it's nice to be proud of something, and why shouldn't that be yourself and your sexual preference. The world might be a nicer place to live in if everyone was proud, regardless of sexuality.
Do you have time for a relationship… if so, who or what's your type of lover?
I'm kind of seeing a guy but it's early days, and I'll probably be single by the time this comes out, so if there are any offers out there….I like a nice normal guy with relatively good looks, his own money, and a pulse. Not much to ask. And someone who doesn't mind being dragged around clubs and showbiz parties!
What is your guilty pleasure?
Vodka
Is there anyone who you'd kill to work with?
A million people. Lil' Kim and the Chemical Brothers would be great for some creative soup. Also Missy Elliot, Peaches, Madonna…
What can we expect next from you over the next few months?
On July 4th, I've organised the Pride London official afterparty at Matter at the o2. It's called Circus, which is the name of my weekly club night. It's an amazing club space, and one of the best equipped venues in the country. The Material Girl herself is performing next door in the o2 Arena before we open our doors, so if you're going to see Madonna you'll be stumbling distance from the party! Our line-up is amazing- VV Brown, Frankmusik, Kissy Sellout, Dan from The Feeling and, most excitingly, Siouxsie Sioux! I love Siouxsie and the Banshees so I can't wait to hear her DJ set. It'll be the perfect end to an amazing day.
Later in the summer, Circus is happening at Pacha in Ibiza with Ladyhawke performing live, and then Circus is going on the road around the UK. Hopefully we'll take in some Northern cities, so watch this space.
I'm remixing for a few popstars and producing some of my own music too so watch out for that later in the year. I can't sing to save my life, so don't all rush to the earplugs yet!
It's going to be a great summer.
For more information about Jodie Harsh, visit www.jodieharsh.com and www.thisiscircus.com.
Tickets for Circus at Matter in association with Pride London are available now on www.ticketweb.co.uk