Johan's Blog – Personal Clips
Johan's Blog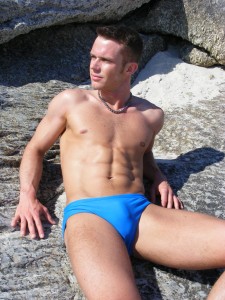 So, for the last few months I have been shooting and editing a lot of personal clips for my site.
That means, Monday to Thursday wanking in the morning, while my boyfriend is recording it, then editing it during those afternoons and evenings.
However, there's a change of direction for me on Friday and Saturday because that's when I produce the duo and group scenes. That means no wanking but plenty of shagging. Actually, I like sex and wanking very much – but at the moment I enjoy the hours when I am not playing with my dick or when not see myself fucking on the screens of the editing machines. On the other hand, it's a gruelling job but I take my responsibilities seriously and would hate to let any of my fans down. So… sex, sex, sex… that's my motto.
Sunday I relax and refill my batteries – so no sex but there are also crazy stories I like to remember.
There is this really cute and very sexy guy. Wow. He is a model for my label Staxus, too. His name is Jimmy Call. I always wanted to have sex with him but it never happened on a movie shoot. I have appeared at various live strip and go-go shows with him before in Germany and UK – but we always slept in two different rooms and I have always been too shy to ask him to share the bed with me. This time though I took the chance to call him and invite him for a duo scene with me. He accepted immediately, which was a good sign.
I arranged everything to meet him at my place and do the scene in my bedroom. The entire house was prepared; bathroom shining, the bed linen fresh and smelled like a flower garden and I was shaved and sparkling. I was so nervous while my cameraman was sitting in the corner chewing gum, waiting and totally bored. Straight guys, what can I say?
When Jimmy was sitting on my bed to discuss the scene we immediately found out we had a really big problem. We are both tops! Damn it! I was so horny about this guy that I totally forgot to check this 'minor' fact before. That was the reason why I never had a movie scene with him!
So what should we do? Both only wanking and sucking? No way. Sometimes I am versatile, normally only with my boyfriend. But with Jimmy… I would do the big exception… and I hoped he wasn't too big. So, we had to prepare me. Shower was no problem as I have everything you need at home but I didn't have any dildos to stretch and prepare myself. Only some vegetables… but the thought of using a banana or a cucumber – forget it. I am not that desperate! So we had to do the scene without stretching me before. My cameraman stopped chewing his gum while a stupid sadistic grin lit up his face.
I was as nervous as a kid because I really wanted to have sex with Jimmy. The sucking and wanking were great and I really enjoyed it. But then the fucking part came.
The only thing I can say is: OUCH! Are they always much bigger up your arse than they look like outside? Believe me; it took a lot of breathing and relaxing to take it! I looked up and saw the fat, satisfied grin of the camera guy and made a mental note to fire him the very first second after we finished with the scene.
But once Jimmy entered and I got used to the thing deep inside me I enjoyed it. Of course not as much as a being top but it was still great sex. Because when you really want something you can take everything – and I so much wanted him. You will know what I mean when you have seen the scene on my site.
I learned a few things from this experience with Jimmy: The next time I will ask my partners about their preferences before I invite them for a shoot. And maybe I will meet with Jimmy again – even as a bottom… because even the strictest top can like to be a bottom… occasionally!
To see the Jimmy scene or for more information go to:
www.Johan-Volny.com or www.Staxus.com