Why is Gran Canaria such a popular Gay Destination ?
This was the question that I was asked last week and it set me wondering. I think it can be summed up as – Variety, Value and Weather.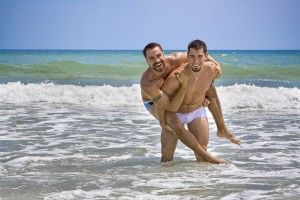 Certainly, there are few who would be disappointed by the Variety that this small island offers the gay traveller. Whether it is the wide range of exclusively gay male accommodation, self-catering gay friendly apartments or 3 and 4-star luxury gay welcoming hotels, there is something for every taste and budget.
Next there is the Variety of gay activities – laze on the beach, cruise the dunes or take a gay day-out excursion. For those less energetic there is always people watching from a pavement café as the boyz pass by before partying all night the Yumbo bars, clubs or sauna. But to do just that would be to miss out on the spectacular mountain scenery inland so, grab a jeep and tour the island or experience the many fine local restaurants and the fashion stores of Las Palmas.
Then there is Value – even in these "credit crunched and Euro-high times", a week in GC starts from just over £500 in August. Amro Worldwide also has plenty of good deals in the early and late summer seasons.
Finally, there is the Weather – generally, it's just perfect all year round but you could get a cool wind in winter or a Sahara blast of hot air in summer that gets you reaching for the air conditioning. Either way you're sure to come back with a tan.
So head south to this gay island – it's almost a rite of passage for every gay, so go check it out.