Velvet – The New Queen Of Pop
The New Queen of Pop?
Sweden's singing sensation Jenny Patterson has undergone a huge change of fortune  since  she became Velvet. Having wowed the rest of Europe, she is just about to tour and release her first album here in the UK. Simon Savidge went to find out if she is the new Queen of Pop.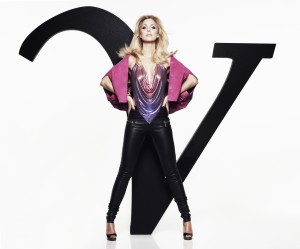 Where did the name Velvet come from?
It was my idea originally. My label wanted a name for the project and they had some suggestions I didn't like very much so, I went away and thought of Velvet. It's quite me; it's sensual, feminine and quite glamorous. Also, when you think of Velvet you think of purple, well I do, and that's my favourite colour. I think it's nice, for me anyway, to have the persona of the singer, then go away, and just be Jenny with my friends if you know what I mean. It's nice to have a character to play; I can be a bit crazier and naughtier as Velvet.
Describe your sound to those crazy gay men who don't know who you are yet…
I do party music. Music that makes you want to dance and enjoy yourself. My new album 'The Queen' is definitely an album to have on when you're getting ready for a night out. The new single 'Chemistry', my first in the UK, is definitely one for the clubs.
How do you feel about your first tour of the UK?
I am so excited about releasing stuff over here. It's always been my dream to have hit songs in the UK. I can't wait to get to do live shows when I will be supporting Basshunter… who has done so well in the UK.
So, what can we expect from a Velvet show?
(Laughs) You can expect me to come out and be fabulous of course. I like to put on a show. I like the dancers, the wonderful outfits and the drama of it all, so you can expect all of that too. This is my first tour in England so this is my chance to show what I am able to do and what I am about. Unlike some artists, I will be singing live (laughs) it's my thing.
You took part in the Melodifestivalen this year with the song 'The Queen', which has already become a bit of a cult gay anthem in the UK already and a big hit on youtube, how does it feel to have a big gay audience already?
It's amazing; in fact, I want to say a big thank you to my gay fans in the UK. To have any audience before you release anything officially in a country is amazing. I love my gay fans all over Europe and so want to perform for them because you do have the most amazing nights when you are with a gay audience.
Here in the UK we call gay men 'queens' so I think it has extra meaning…
Exactly, it has many meanings. Some people have thought 'who does this Velvet girl think she is saying I am your Queen' and it's not meant like that (laughs) well in a way it is I suppose. It's a song you can sing when you are having a bad day, to cheer yourself up – that is what pop music should do after all.
Velvet's single 'Chemistry' is out now. The album 'The Queen' will follow later in the year. For more information visit www.velvetofficial.com