Eastern Mediterranean
From Istanbul to North Cyprus, Chris Amos takes in a vacation with a difference.
While our pound takes a pounding against the Euro, it is still holding well against the Turkish Lira. Now is the time to look further afield for summer holidays where your hard-earned cash will get you more. Fortunately, North Cyprus is just 4 hours away by Turkey's premier low cost carrier Pegasus Airlines with a stopover in Istanbul.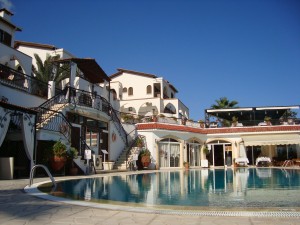 On route to always sunny North Cyprus, have a quick stay in Istanbul, the vibrant capital of Turkey is the only city to be half in Asia and half in Europe. This gives the famous historical city a unique appeal that is both cosmopolitan and traditional.
Gay life is in abundance in Istanbul nowadays; indeed you can even take a gay tour with Pride Travel Istanbul (www.turkey-gay-travel.com). Well recommended if you want to visit the
famous shopping mall, Istiklal Avenue, starting from Taksim Square that divides the night-life area into two. Most of the gay venues of Istanbul are located in the quirky side lanes connecting to this always busy pedestrian stretch, which is so much better than Oxford Street with high street brands and many a shopping bargain to be found.
Furthermore; Istanbul has a huge number of historical landmarks which can be crammed into a day tour if you are short on time. If you need somewhere to stay, the Ritz Carlton (www.ritzcarlton.com) conveniently located near the gay district offers superb rooms and has one of the city's most exclusive spa for relaxation and beauty treatments.
Unlike the south Cyprus, North Cyprus has been isolated from the rest of Europe until comparatively recently, so this top half of Cyprus is more the Mediterranean of your dreams; quieter, less developed, less tourist-oriented. With near deserted beaches, un-congested roads, soaring m
ountains and prices lower than Euro zone countries, North Cyprus is how all Cyprus used to be.
There is plenty to see and do here. The area is rich with history so you can take an exploration through time during the day. There are lovely medieval castles and various archeological sites to visit. You can also go walking along the coast for a romantic stroll.
However, the warm climate makes the ocean an inviting place to spend all your time. There is nothing but sunshine for at least 300 days per year so there are plenty of water-sports you can engage in as well.
Whether you like surfing, boating, parasailing, swimming, sailing, or skimboarding, you're sure to find a perfect place to do it. North Cyprus is truly a perfect place for water sports.
At night you can enjoy various types of entertainment in clubs around the area and also find live bands performing along the beach if you prefer to spend your evenings outdoors. Gay clubs are thin on the ground but a new gay bar recently opened in Kyrenia. And local gays can be found online at Gaydar.
As far as accommodation goes, there are plenty of private villas, most of them offer a breath-taking view of the ocean to wake up to. If you base yourself near the coastal resort of Kyrenia you can get to the nightlife and daytime activities easily by the local transport but hiring a car is recommended to discover the most beautiful beaches.
The Hideaway Club H
otel is the premier boutique hotel of North Cyprus. Just three miles from the coastal resort of Kyrenia; this is the place where travel agents themselves choos
e to stay. Comprising a selection of Connoisseur Suites and Club Rooms, the superbly-run hotel operates a 'child-free' policy throughout the summer season and has a unique, languid and relaxed atmosphere around the welcoming poolside terrace. In the foothills of the Kyrenia mountain range and close to all the delights of North Cyprus, the hotel is flanked by the majestic St. Hilarion Castle and has absolutely stunning views of Kyrenia itself; as well as all the North Cyprus Mediterranean coastline.
With most parts of the Mediterranean littered with tourist resorts, North Cyprus offers a much more relaxed local atmosphere. English is not the first language like so many tourist spots nowadays. The unspoiled nature of the locals just adds to the uniqueness of this paradise. North Cyprus offers the best conditions for an unforgettable relaxing holiday.