Hey guys.
Hope everyone's having a good month and enjoying the first bit of nice weather this year – I know I am.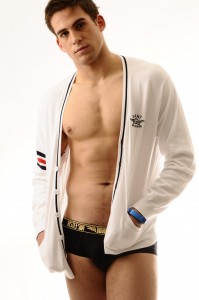 I've had a good month up in London and back in Wales for Easter.  I've been busy as usual, working hard in my new job but of course, I found time to have some fun!  I recently went to see a play in London called 'A Plague Over England' at the Duchess Theatre, which I really enjoyed! It follows the notorious arrest of famous actor John Gielgud in a public toilet.  It's about homosexuality in the 50s and the progression the law and society have made over time into the Thatcher years.  I loved the subtle witty humour and Michael Feast's performance as John Gielgud.
I'm still in the middle of auditioning for drama schools, it's a gruelling process but I'm really enjoying it… apart from the waiting.  Good news though, so far I've been accepted into two schools for the BA(hons) acting course. So, I start my training in September, just uncertain where I'll choose to go at the mo, but I can't wait!
I bought Kelly Clarkson's new album 'All I Ever Wanted' the other day and I absolutely love it! Kelly's gone and done it again with a brilliant record, she worked with superstar producer Max Martin on her hit 'My Life Would Suck Without You' and even teamed up with Katy Perry on her forthcoming single 'I Do Not Hook Up' and 'Long Shot'.  Kelly really shows off her writing skills as well and writes six of the songs on the album – my favourite being 'Cry'!  It's definitely worth getting! Good job Kell! Five stars.
I went to see 'A Haunting in Connecticut' at the cinema a few weeks ago.  I nearly f*cking shat myself! I love a good horror but I still scream like a bitch! It's a good job we were at the late night showing or I would have seriously embarrassed myself! The film has plenty of unsuspected 'jumpy' bits that will get you pulse going!  Overall, I thought it was pretty good – a good scare but not the best horror I've ever seen.  I found the constant merge of reality with dreaming slightly annoying and it dragged a little at parts, but other than that… good! Worth a watch – go in the daytime though, I was so scared going home afterwards – I was twitching and looking behind me every two seconds ha-ha!
Right, I've got work bright and early peeps so I'll love you and leave you to it! Hope you have a great month!
Hugs
Dino