More than just chocolate
by  Stuart Grant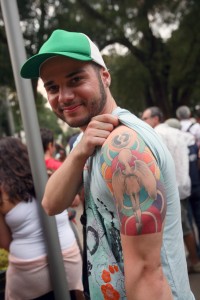 Want to have a weekend away without sharing your flight with 3 stag parties and a hen party?  Then you have to think about Antwerp!
Belgium is not just EEC central, Mannequin Pisse and chocolates; it also is one of the most gay-friendly states in Europe. Gay marriage is accepted as a matter of course, and gay partners are afforded equal rights to straight ones. Antwerp is a city of about half a million, and in common with many other port cities, has a thriving gay scene.
Culturally speaking, Antwerp is renowned as the home of Rubens – ok for most gay guys fat-bottomed girls aren't our thing – but nowadays it is equally well known as a fashion city. For those who are more interested in the gay scene, then Antwerp has it all.
For the Disco dolly's we have great dance clubs such as Red & Blue and the d-Club, for the fetish crowd then we have fantastic clubs with darkrooms such as The Boots (its been in existence for 25 years), the Oink Club and The Kinkys. When everybody has finished at these places, then after-party central is The Rubbzz, where you will find leather next to the latest Armani until well after sun-up.
During the day, of course, we have fantastic Café Society, such as Café Delux, Popi, and 't Scenario, with many of these having super continental terraces where you can sit in the sun with a coffee, glass of wine, or a "pintje" (the local name for a small beer – Belgian Beer is fantastic) watching the world (and the boys) go by.
We shortly have the first big event of the summer with the annual Fenix gay skinhead weekend (30th April – 4th May) which is bound to attract hundreds of gay skinheads from all over for numerous events spread over 3 venues (not including shopping).
Just a couple of months later Antwerp celebrates it's first ever Pride celebration. This initiative has been initiated by the City Council after the resounding success of last year's Eurogames.
This happens at the end of June (26th-29th) and will, hopefully be the launchpad for even bigger and better events in the future.
This weekend includes, as it's highlights
A Hard Night – a special gay fetish dance party in the old Antwerp Dam Station – including, for the first time ever, the old cellars which shall be transformed into a play area.
NaviGAYtion – a single event with ten party boats hosted by some of the biggest clubs in Benelux partying on the River Schelde.
Falcom Fair – a totally new event for Belgium, drawing it's inspiration from the Folsom Street events, and its name from the nearby recently refurbished Falconplein. With this event, Belgium has it's first ever Fetish Street Fair.
Antwerp has internationally renowned dj's such as Jack Chang and Jon Doe throughout the weekend.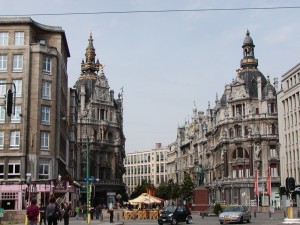 All this is only an hours flight from London City and 1:15 from Manchester Airports.
For more information check the following websites.