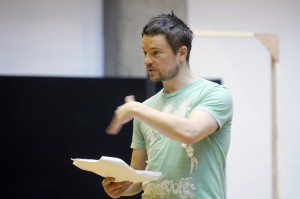 Craig Kelly (the Dr Who fan from Queer as Folk) is at it again: taking on challenging roles and breaking taboos. This time, he's a Ukrainian migrant worker in the play 'Fast Labour'. Bent caught up with him to discuss politics, his funny side and the role that made him a household name among the gays.
So tell us a bit about 'Fast Labour' and your character, Victor.
The play's all about Victor's story as a legal migrant worker from the Ukraine. He makes this arduous journey by boat and lorry, only to be robbed by Turkish blokes. The play opens with him working gutting fish and picking carrots. We get to see eighteen months in his life, as he tries to move into better things. But unfortunately, he ends up becoming a gang master.
Sounds dark.
Don't get me wrong, it's got serious issues at its heart, but it's a story about one man's life and there's lots of humour. It's quite warm and fun, as well as having this serious element. It's not about preaching to people.
Immigration is very topical right now, isn't it?
Yes, it is. I've always had no problem with people coming here to work. If there are jobs for them, then that's good. We create these jobs for them, because no one in Britain wants to work gutting fish and picking carrots, do they? These are hard working people and they often get whipped by the press. It's really not their fault. I did loads of research and it shocks you when you look into it. These Eastern European countries are being drained by the West. It's us who're forcing them to come over here to look for jobs. There's a big gap in the market for these workers, and most of it has been created by supermarkets, who just want people to do these horrible jobs for very little pay.
This is a theatre piece, but obviously you've done TV and some film as well (such as Titanic). So which do you prefer?
As an actor, I don't go with something because it's a TV script or a theatre script. I go with the stories. That's what gripped me about this play: it's a very powerful story and it's very well written. But filming is entirely different to performing on stage. When you're filming, everything's done in bits, out of order, and it can be re-shot if it goes wrong. On stage you can't do that. But there's something more now about the theatre. You get an immediate reaction from the audience, and there's a buzz from that you don't get with TV or film.
Obviously your most famous role to date, love it or hate it, is Vince from Queer as Folk. How has that role affected you and your career?
It was a gift of a role and I was just so proud to get it. As soon as I read the script I knew I had to be a part of it. Russell's such a talented writer; he doesn't like to be straitjacketed. And Vince is partly based on Russell anyway. They're both huge Dr Who fans, of course, but there are other similarities.
So what other projects do you have in the pipeworks?
Well I've actually written a sketch show called Hair in the Gates. It's inspired by The Fast Show and Monty Python, so it's a very British style of humour. I've done the pilot episode already, but it's all a bit hush-hush at the moment. I like to keep things close to my heart till it's all ready for the public. But I think I've got a good sense of humour.
Fast Labour is on at the West Yorkshire Playhouse until 17th May, and then moves to the Hampstead Theatre until 21st June.
Photo: Richard Moran