SO DELIRIOUS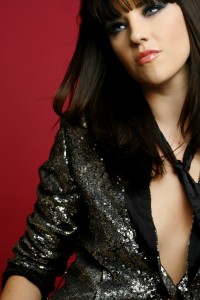 She's got the energy, she's got the looks, but most importantly she's got the voice!
With 'Delirious' – the new single by David Guetta – ripping the dancefloors apart Sebastian Kozak decided to catch up with the voice behind the track, multitalented singer songwriter – Tara McDonald.
I feel truly blessed to be working with David Guetta, who not only is a very talented DJ/producer but is also a very well grounded and humble human being.  He's great fun to work with as he has so much energy and is very passionate about what he does. There is a great vibe between us and I hope to do more projects together with him in the future.   I co. wrote the top line for "Delirious" with Carl Ryden and we received the track via Sven @ Yamabooki in Cologne Germany and the rest is history.  I see "Delirious" as a summer record; the song is all about longing to be away on holiday when work gets too much!
Are we going to see you on tour in the near future?
I am constantly touring which is incredible.  I feel very lucky as I get to travel and meet new interesting people all the time and get to share what I love with like minded folk.
Sometimes I can find touring hard as I mostly travel by myself and can feel lonely at times – (then run up huge phone bills!) also early flights and late night gigs don't leave much room for sleeping, which if you have a few on the trot can take their toll.  A good gig leaves me with such a buzz and hunger to do another great gig; it's an addictive high that I want more of!!!
What do you think of the way music is promoted these days?
Music is so accessible now which is great, it brings more room for home ground talent, but there is so much out there now that we are also swamped by it and I wonder will there ever be another Madonna…Michael Jackson etc….  Some people seem to think because I have sang or co-written on records that have been in the Top 20 UK charts that I'm a millionaire, unfortunately that is not that case…yet!  I do feel a lot of hope however, it is an interesting time, a transition, the tide is turning…
Is there a solo project in the pipe line?
YES!  I am in the process now of creating songs with various producers, I can't tell you anymore than that at the moment, only to say that I am very excited and hope to release something soon under my own name.
Tell us about your stage experience.
I started off singing in West End Musicals, I was in Les Miserables at the age of 9, I used to travel from the country side in Kent to go and perform by night, one of my parents would take the day off work to look after me, if  I had a matinee.  It's strange how things come about, I was bullied at school so as a result my mum thought it would be a good idea to send me to a performing arts workshop at a local church hall to help me gain my confidence back, the guy running the workshop realised I had a talent for singing and suggested I go to an open audition for Les Mis, it was a surprise to everyone that I got a part in the show!  So really now I would to thank the bullies because without that dark experience I may have never have had the opportunity to sing.  Funny how things work out!
You once performed with Julio Iglesias didn't you?
How did you know about this?……..I was a child ambassador for UNICEF after winning an international singing competition called the Danny Kaye Award representing England, I was only around 12 yrs. old at the time and got to do a gig at Wembley Arena with Julio Iglesias, it was completely insane and I really didn't realise what a big deal it was at that young age, but now looking back now it's completely crazy