Whoring – it's a calling!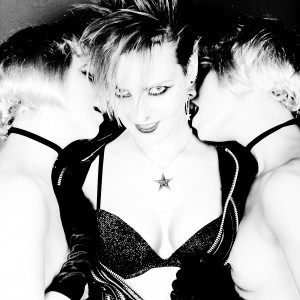 You may remember them from BBC's Singing with the Enemy, but Paparazzi Whore are more than late-night TV entertainment. Adam Lowe caught up with lead singer Micci Oaten to talk about the TV show that rocked them to fame, ex-girlfriends and musical inspiration.
How was the experience of Singing with the Enemy?
The experience was quite bizarre! Being put in a situation where you had to explain your day to day routine and feelings was like having your own shrink there all the time. If you expressed any reaction, the camera would go straight onto you and then loads of questions were fired at you. We spent eight days in this environment. After a few days we all became used to them being there from morning till night.
It was odd when it was all over cos you missed the cameras. I never thought I would, personally. This experience has desensitised me to cameras; they don't intimidate me in the slightest now.
What did it teach you about your own musical aspirations, and did it strengthen or challenge the ideas you had when you entered the house?
We all felt a lot stronger when we left the house in where we wanted to take our sound. Working with another band and a producer opens your mind to evolving and progressing what you are doing musically.
We were all very pleased with what we wrote, considering the kind of pressure we were under to complete a song in the few days.
It has made me realise that I am a lot stronger than I have actually realised. Many situations were thrown in my face and I dealt with them with a level head. I could have been a lot more highly strung, but I wasn't.
I feel that we took on this challenge and completed it, and we are very proud of that, no matter how the show was finally edited.
What are you doing at the moment?
I am in the process of writing lyrics for a song that we have lovingly called 'Louder than Bombs'. It's about all the times in your life when it feels like your world around you is falling apart and you block it out by putting headphones on and listening to music that helps you to solve it all. I have often done this; it's very therapeutic.
Describe your song in less than 25 words.
The new single called 'Fake' is about the TV show and seeing ex-bandmember Suzy purely for what she is. Plus it has one hell of a bass riff and an anthemic chorus everyone can chant to the people they don't like. Sorry that's 42 words.
Who is your favourite musical artist at the moment?
Adam and the Ants. The 'Kings of the Wild Frontier' album is what I cannot stop playing. It has such an amazing energy. I watch Adam for his performance, he is such an icon.
For my birthday I was given The Bravery's album called 'The Sun and the Moon'. Absolutely amazing! So I'm going to buy their first album too.
Where do you see yourself in ten years' time?
I would like to believe that I will be one of the many artists that other performers look to for their performance and inspiration. We have had to work very hard. We are very tenacious, so I would like to think that I inspire people to never give up.
Also, a house in the country . . . [She laughs]
'Fake' is out 28th April.