Sony Award Winning Lucio
Biography
Lucio is Capital Radio London's newest signing joining the station to host the all new drive time show.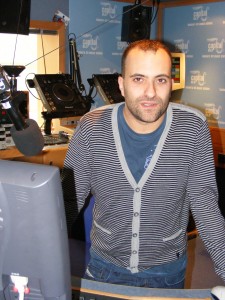 Before being poached by Capital Radio he hosted the successful Drive Time show on Xfm where is achieved the highest RAJAR figures since the stations launch.  He joined there from Kerrang! 105.2 where he picked up the Gold award at the 2005 Sony Radio Academy Awards for best Daily Music Show. He also fronted Kerrang! The Radio Show across the UK on EMAP's Big City Network and the Kerrang! Digital radio station – a show that also got him a 2004 Sony Radio Award Nomination and the accolade of making it the UK's most listened to show.
His radio career began at the University of Bradford's radio station, RamAir. Whilst at university he soon came to the attention of local station The Pulse where he presented his first commercial radio show, West Yorkshire's New Official Countdown each Saturday morning and Sunday evenings alternative rock show, The Edge as well as a short stint of weekday evenings on Signal FM in Cheshire. Galaxy soon picked up on Lucio as a rising star and offered him weekend shows on Galaxy 105 Yorkshire and cover on their stations in Manchester and the North East.
Lucio moved to London in 1999 where he said he 'generally wasted a year'. Although he did present on Surf 107, Brighton and GWR's Leicester Sound, he made ends meet working on Ken Livingstone's election campaign and working for Lambeth Council as their Environmental Monitoring Officer.
In 2000 Galaxy asked him to return as the Drive time presenter on Galaxy 105.  In less than two years Lucio had doubled the shows audience. Spotting a natural and versatile radio talent, EMAP convinced him to take over the late night talk show at Hallam FM.
Late Night Lucio launched in September 2002 making him the UK's youngest talk show presenter. Bringing a range of guests to the show from fitness instructors and MP's to pop stars such as Dido and Badly Drawn Boy, the show became compulsive listening for under 30's in the north. Features included Grand Prix Bedroom Trashing, Extreme Micro-waving and Stair boarding.  His Hallam FM Show also proved so successful it was re-branded Kerrang! and was networked across EMAP stations. On taking late night to the number one spot in the market place Lucio moved onto new challenges on Hallam's afternoons where he successfully made a huge impact and brought massive ratings to the station.
With a passion for his music and Lucio is busy causing a stir as the UK's newest radio talent.