Double Trouble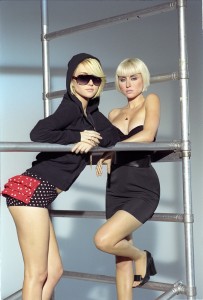 You may recognise Brit & Alex as the singing twins from the John Frieda adverts. Now they are back with one of the most requested songs on radio. Bent caught up with them to discuss partying with Paris, clubbing in GAY and why they love the UK.
Most people would remember you from the John Frieda advert…
Brit: We were so young then, we were modelling but we knew we wanted to do singing so combined the two. We originally got offered a deal to release the song 'Are You Ready?'…
Alex: I was like, you can release it but it won't be me promoting or singing it.
And you are now managed by the same people as Missy Elliott which is amazing.
A: I know… we originally wanted her to feature on one of our songs so we went and saw her management and it all came from there.
B: We were originally being managed by our Mum, we met with Missy's people and she liked us so did they and that was that.
'Let It Go' is the first single and is from the Step Up 2 soundtrack how did that come about?
B: We were a big fan of the first film and we heard 'Let It Go' and it said what we wanted to say you know 'you think you know us… let it go'.
A: Missy was already on the soundtrack so then we got asked and we were so there.
Being twins do you ever just want time apart, do we have any Dynasty Diva action going on?
A: We are really lucky as this job can get so lonely.
B: Plus I am the talkative one and will just go on and if I'm dishing some gossip or saying something out there then Alex will step in (laughs).
Why have you decided to release in the UK first?
A: We love the UK, we have lived here on and off for so long.
B: I really wanna end up living here… oh how Madonna.
A: We really wanna do GAY we love that club, we have been out in Soho so much through living here and we love it.
So you are up for having a big gay audience?
B: Totally, bring it on.
A: Gay men love Brit. They sort of just get magnetised to her, maybe because she looks like Paris Hilton.
B: I have a picture of me and Paris on my phone in matching hats partying, we do look alike (get her phone and shows us) she's cool. I wouldn't say we were friends but she's cool.
A: We have a song called 'I Like Boys' which we think gay men will get and we hope love.
It could be a gay anthem?
Both: We would love that!
The awesome single 'Let It Go' is out on 14th April.