Porn to be a star.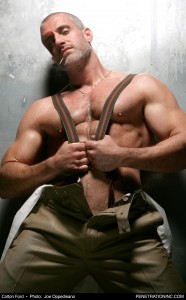 Though you may recognize Colton Ford from his previous foray into adult films, it's time to avert your eyes, prick up your ears and, well, shut up and listen to "Tug Of War," his gorgeous, glistening and glowing debut pop/dance album.
Produced by studio star Quentin Harris it's a polished, tightly edited and beautifully sung pop album undeniably worthy of its shot in your iPod.  "Tug Of War" was written entirely by Ford and Harris, with the exception of the final track, "Your Love is Everything," which Ford wrote with superstar songwriter, Denise Rich (who's written songs for Patti LaBelle, Celine Dion, Mark Anthony) and producer, Laythan Armor.
Ford has been a musician since childhood. From school days playing the violin, the guitar and singing in choirs, to post high school years performing in dinner theatre ensembles, jazz clubs and Las Vegas reviews and in adulthood, recording several late-Eighties dance singles. In 1992, he was signed to Denise Rich's (and Michael O'Hara's) production company (MIDE Productions), which brought him to the attention of the Godfather of House Music, Frankie Knuckles, who chose him to be the vocalist on his second album.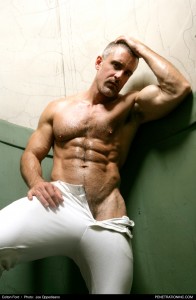 However, there are those who just don't believe that a porn star can make good music… so what does the man himself have to say: "I fully accept that there will be those who just can't or won't let themselves get over my past, and will want to keep me neatly slotted as a porn star.  That's fine. I feel, however, that there are more people out there that are open and able to see beyond that. I'm multifaceted, as we all are: I'm a sexual person, I'm a musical person, I'm many things and I embrace all of it. For those that are interested in taking a look, they'll see that my music stands on its own. I've sung professionally for 25 years, I did porn for 10 months: It's what I've done all of my life, not an afterthought."
Out: 19th February – Tug Of War – Outsider Music – www.Penetronic.com
Photos: Joe Oppedisano –