The coldest comedian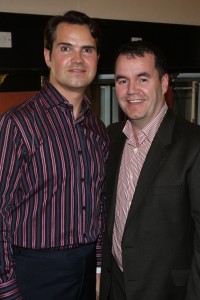 What a weird weekend I had recently. It started out with a mad dash across the Pennines to meet Alan Carr, then a night out with the stars of Celebirty Scissorhands, followed by the iciest of welcomes from Jimmy Carr – so obviously no relation to friendly Alan – and cosy drinks with Chris Moyles.
I'll just tell it like it was. Friday night, I was bored so I jumped in the car to go for couple of health-giving orange juices and a change of scenery in Manchester's bars. It's great over there, a perfect place to chill out and watch the world go by.
I'd barely been there half an hour when my phone went. It was Alan Carr, the Friday Night Project comedian. "Where the bloody hell are you?" he barked, in mock annoyance. "I've come to Fibre to surprise you and you're not bloody even here!"
He'd been packed off on a train up north at the last minute by his agent, Off The Kerb, to do a BBC Radio 2 thing which I think involved a bus being named after Jonathan Ross, for some reason. He'd checked into the Mal Maison and headed out for a drink at my bar.
I thought I'd better head back to Leeds and be a proper host so I drove over – I'd have to get my quiet night another time. A long and highly entertaining night ensued. On Saturday and looking forward to relaxing and getting some sleep … till my phone went in the early evening. It was snooker player Paul Hunter's widow Lindsey who was hitting town with Chris Moyles' sidekick Gay Aled.
The pair were on Celebrity Scissorhands together and are good pals now. Well, I had to join them. I got on really well with Aled and learned all sorts about other celebs.
They were telling me how Steve Strange, also on the hairdressing reality show, was very, very strange in real life, how he cut a woman's ear while doing her hair, and how he insisted on picking his own big hit Fade To Grey to accompany an end-of-series fashion show. It was a hoot and we were out till 5am.
It turned out Chris Moyles was in town too, I knew he was off to see Jimmy Carr at the Grand Theatre so I went along to do some photos. He wasn't just there to enjoy the show, though, he got up on stage and made a few quips himself – and was markedly funnier than Jimmy.
I texted Alan saying: "Guess where I am?" His response was: "Get to the box office and tell them you made a mistake and thought you were coming to see Alan Carr."
That was a perfect opening line to go and introduce myself to Jimmy after the show, I thought, so I knocked on his dressing room door. He was utterly, utterly cold as ice. "Who are you?" he asked.
"I write columns and take photos and own bars," I said. "I just wanted to say hello and take a snap of you." He continued to act as if I was a dangerous terrorist. "Well, I'm not sure about this," he said while I set up and took a couple of shots. "Is that all right?" he said, obviously meaning: "Get out of my dressing room." Miserable thing.
Just then Chris Moyles and his entourage strode up to his door. "Alright, Terry?" said Chris, shaking my hand. "It's all right Jimmy, we know Terry," he said. The pair of them posed for some pictures together but Jimmy still hardly cracked a smile. I don't think I've made a soulmate there.