Doing it doggie style… Gareth Rhys Chapman, who has a nose for this type of thing, looks at a gay man's best friend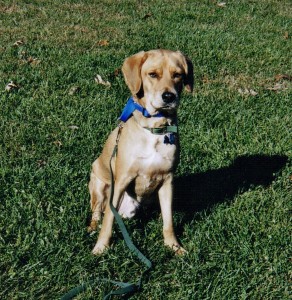 You wouldn't think you could learn too much about a guy from his doggie, would you?  Well, you're wrong.  If I say the word 'Chihuahua' to you, is the first thing that springs to mind leather-clad bears in a biker bar?  Didn't think so.  Or how about 'Rottweiler'?  Did that lead you to think of a twink skipping through the streets on his way to G-A-Y?  Again, no.
Is it a size thing?  Maybe.  But you can get some pretty scrawny dogs like Jack Russels that aren't the gayest thing you'll ever come across.  Equally, poodles can be massive – but you try just saying the word 'poodle' without sounding like a complete fairy.
The bark?  Probably a better barometer of what the owner will be like.  A small annoying yappy dog is likely to have a tight T-shirt toting keeper, whereas a playful mid-range bark is probably owned by a middle-aged couple that have ditched cocaine for chintz.
I think it's more to do with hair – we all know how us gays love to coiff our hair with hundreds of chemicals to maintain gravity-defying styles.  The campest dogs must, therefore, be those with long hair that can have it tied up in a bow in time for Crufts.  You can dye it too – what could be better than a bright pink lap dog to mince around the streets with?
Also – have you noticed that some dogs have a gay tail?  It flips up and lies on their back so their arsehole is on display for all to see (and sniff).  No prizes for guessing the type of gay that's going to adopt one of those bitches…
Maybe gay men look for in a dog what they would in a man – not in an illegal way – if so, I should petition Gaydar to make it compulsory for users to put their favourite dog breed up there.  That way, if you fancied a bit of borderline-straight guy fun, you could then search for suitably manly pets – think Great Danes and Greyhounds.
If we look which famous doggies have graced the pages of trashy celeb mags, we can cut through the PR machines to see what lies beneath the surface of our favourite stars.  Some of the findings are unsurprising – Liza Minelli's Cairn terrier and Paul O'Grady's Poodle tell us that, as we always suspected, very little lies beneath.  But some are frankly shocking.  Cher didn't in fact own a toy spaniel as you might envisage, but an Akita – a great lolloping heffer of a dog.  Maybe she got it (and plastic surgery) to make her feel better about getting old and ugly.
So, if you're sick of trawling through personal ads and propping up bars trying to find the perfect man, a dog may prove to be a shrewd investment.  Because if, whilst trotting around your local cruising area with your new pooch you stumble across another of your chosen breed, you know you're in there.  Seems a bit unfair on the dogs though; maybe Gaydar should set up a site for abandoned pets to meet members of their breed for personality-matched encounters…