Sex on the beach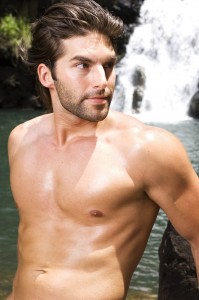 Red-hot supernatural Stateside TV hit  – Dante's Cove –  finally comes to the UK this month. Outrageously camp, this gay TV series plays like Queer as Folk meets Buffy so, waving its metaphorical wand, Bent met up with one of its stars… the gorgeous Charlie David to ask him what we can expect.
Dante's Cove (filmed in the Turks and Caicos Islands) is a guilty pleasure.  It's a gay gothic soap opera which means it's trashy television in its most decadent form.  It's the type of show that groups of friends meet up for drinks and watch together.  In fact – do that – it might be even more enjoyable after a few martinis!  In the US, the show has definitely developed a cult following, people yell out lines when they watch it in the theatre – like Rocky Horror Picture Show.  Did I mention that I'm a mortal who fights witches and warlocks in order to save my relationship with my boyfriend?  Well there's that little detail too.
The sex scenes are pretty graphic… any problems with camera and crew looking on?
Are you kidding?  We have to bolt the doors closed so we can get through the scenes!  Even though we shoot all the intimate scenes with a 'closed' set – the reality is instead of 30-40 people around it's down to between 8-12.  Still a lot of eyeballs watching you get your groove on.  It's just acting though – after a while you forget all the action that's happening off camera.  It is just like theatre, when you are on stage you do not stop to gawk at the dude in the third row… unless he is cute.
You are pretty 'out' so, are all the cast gay?
I'm just an actor who happens to be gay and am honest about it.  Life is too short to hide or live in shame of who I am.  The whole living in the closet thing is so old school.  It's like a bunch of women who don't believe they should have the right to vote.  I'm not one to 'out' people by any means but at the same time I don't understand living a life that's so preoccupied with what other people may think or based on fear.  So suffocating!
In the first season I was the only out actor on the show.  In the third season, which is currently airing in the US, there are seven gay and lesbian actors on the show.  I think it's largest number of out performers ever on a television series together – it's very exciting.
As magic is at the heart of the series… has it given you an interest in the occult?
I've always had an interest in the metaphysical and the supernatural.  Let's put it this way – I believe in the power of meditation, personal empowerment and visualization such as athletes do.  Will you ever see me in a pointed wizard's hat dancing around a cauldron?  No.
Has anything scary happened on set?
With all the supernatural elements on the show, there's plenty of scary stuff… let's see, we have dungeons, witches, warlocks, people coming back from the dead…
Well one time my 'modesty sock' or 'cock sock' as we actors like to call them fell off.  That certainly gave an eyeful of Charlie the crew wasn't necessarily prepared for on set.   That was probably the scariest thing.
Any new projects on the horizon?
I'm producing a new film called Side FX so we're in the process of packaging that right now.  My production company Border2Border Entertainment has several television series in development and it's really just a matter of which series gets the greenlight first.
Of course, it looks like I will be returning for a 4th season of both Bump and Dante's Cove so it is back to Warlock Ass-kicking school for me to train for the new season!
Out: 7th January – Dante's Cove Season 1 – £14.99 – tlareleasing