What did you do before the music got hold of your bollocks?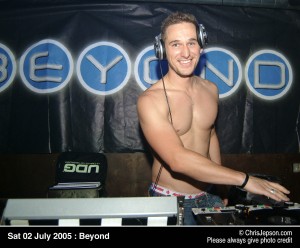 I got into music when I was about 12 – so before then there wasn't much going on – I had my Star Wars figures and my bike. Life was good…
If the music hadn't turned out… what do you think you would be doing now?
I hate to say it, but I think I'd probably be in prison. I worked in several record stores while I was growing up. I was surrounded by temptation and half the stock always left in my bag at the end of each day, resulting in a brush with the law, two appearances in court and a criminal record. I'm certain that if I hadn't left when I moved to London to work for Universal Records, where I work today, I'd be locked up for sure. I just couldn't help myself. It wasn't big and it wasn't clever… but I do have the most impressive record collection :-)
Where's the best place you've performed?
In the Harbour in Sydney three years ago, for Mardi Gras. Playing to 5,000 people, surrounded by the most incredible scenery. An experience I will never forget.
What was the first record you bought?
It's a shame no one is ever interested in what the SECOND record was, which is a shame as the first record I bought was "The Lion Sleeps Tonight" by Tight Fit – which was hideous then, and hasn't exactly aged well. However, the second was "Give Me Tonight" by Shannon – which is way cooler.
What gets you up and bopping?
I'm not fussy. Pretty much anything – just no hard house: Devils music.
Who's on your ipod these days?
Almost everything I own. But mainly all my dodgy 80s stuff which never fails to keep me amused whilst on the treadmill.
Who's influenced you the most?
Annie Nightingale, Paul Oakenfold and Jeremy Heally. Annie nightgale's Sunday night request show on Radio 1 throughout the 80s was a massive influence on the music I got into while I was growing up and helped shape a wide and varied musical taste. Paul oakenfold is probably more commonly known for his Trance sound, but towards the end of the 80s and start of the 90s he was one of a handful of djs who remixed rock/guitar bands making some truely unique music. He was also one of the early Ibiza/baleric djs. Jeremy Heally wasn't the best dj in the world – but I always loved his approach to djing – he understood his crowds and took risks with his mixing and records he played.
Do you have time for a relationship… if so, who or what's your type of lover?
Yes, I have a boyfriend. My type is the one i have: I'm very lucky in finding someone who's into the same nonsense as me and who puts up with listening to boring 'DJ talk' all the time. Perfect match.
What can we expect next from you?
More of my own music. I remixed Danni Minogue's single 'Under Pressure' last year – but haven't been able to return to the studio since. I've just started to build one in my cellar at home and am about to start working on some projects with Max from Italian act SOULCAST. Ive also started to release mixes as Pod casts online.
You can download them for free at http://stevepitronsessions.podomatic.com