Peter Tatchell Attacked At Moscow Pride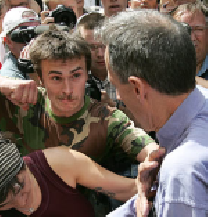 Gay rights activist Peter Tatchell has been attacked by anti-gay protesters in Moscow.
Right Said Fred singer Richard Fairbrass was also punched in the face while giving a TV interview.
Both were there to support today's banned gay rights march in the city. The BBC reports Mr Tatchell has been arrested.
Up to 20 other activists have been arrested and it has been confirmed that organiser Nicolas Alexeyev will not be released.
There are fears that he is being detained in the same cells as some of the homophobic protesters.
Nationalists and religious groups threw eggs and shouted slogans such as "Death to homosexuals."
Two MEPs were also detained but have subsequently been released.
Mr Tatchell was punched in the face by a young man, and police have said they are investigating the assault.
He as received medical treatment. Maxim Anmeghichean, Programmes Director for gay rights group, ILGA-Europe, said:
"Peter Thatchell seems to be OK with his health. I have been with him to a Russian hospital, and there seems to be no threat to his eyesight after a very heavy punch.
"He was provided medical assistance roughly within half an hour after he was brought into the riot police van.
"He has written an official complaint to the police, and is now in the situation to give further evidence. The police are looking for the guy who punched Peter.
"I was in the police bus with MEP Marco Capatto, as well as two people from a transgender organisation in Moscow, one of whom I believe is Sergei Kiseliov. We were kept in the same bus with the skins and neo-Nazis.
"The riot police was making very degrading remarks: "You'll do this in your own country, faggot", they were also saying "Don't impose this on us, faggots", making jokes."
Around 100 gay rights activists attempted to present a letter to the office of the Mayor of Moscow.
Police immediately moved to detain around 12 of them, placing them in a riot van.
"We were peacefully trying to present a letter. That is never a reason to arrest people," Sophie IntVeld, a Dutch member of the European Parliament, told AP.
Yulia Volkova and Lena Katina, of the pop group t.A.T.u., did turn up at the protest, but were quickly evacuated from the scene by their entourage when eggs were thrown at their car.
The MEPs are furious at their treatment. Voker Beck from Germany was among those detained.
Italian MEP Marco Cappato was physically assaulted, and when he demanded to know why the police were doing nothing to stop the violence, they detained him.
"We believe these perverts should not be allowed to march on the streets of Moscow, the third Rome, a holy city for all Russians," said Igor Miroshnichenko, who claimed he is an Orthodox believer.
"It (homosexuality) is satanic," he told Reuters.