Making History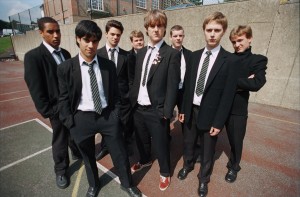 The History Boys stage play took both the West End and Broadway by storm garnering a number of prestigious awards. The recent film brought in a whole new appreciative audience and made stars out of the young cast. Bent chats to one of the film's 'boys', Russell Tovey – rugger bugger Rudge in the film.
How did you get into the business?
I had serious ADHD (Attention-Deficit/Hyperactivity Disorder) as a child and the 'professionals' thought acting would be a good outlet for me to get rid of pent up energy and aggression
What did you have to do for your audition to get the History Boys Job?
Cook Alan Bennett his favourite meal, omelette and peas and teach Nicholas Hytner how to punch (He punches like a girl)
Had you gone up for another part and ended up with a different one?
Yes, I was offered Mrs Lintott originally, the part which Frances De La Tour played eventually first but I didn't want to be typecast any more as the middle aged bitter woman that I've become, so I took Rudge., the young, sexy, charming buff rugby player, I felt this would be more challenging
When the show took off big time… what affect did it have on you?
A lot of the time I was angry and scared of the attention, I was cruel to my friends and loved ones and couldn't go near museums for months after. Thank God this has passed. I'm now a member of the Tate, the National Gallery and the Serpentine, which at the height of History Boys fame was impossible
I've seen both the stage and the film version… but which do you prefer?
I earned more money from the film… so that obviously
Alan Bennett writes a damn good play… who else do you admire?
Anyone who can write a good line and thinks I can deliver it for them. I admire anyone who offers me a job, I'm a huge fan of their work.
What can we expect from you in future?
A wonderful wide range of diverse and interesting characters, portrayed through all the mediums. Mainly dance and stencil work
What are you listening to on your i-pod these days?
Everything – My top three (and this isn't bullshit) Kate Bush, Rufus Wainwright and Sufjan Stevens. Then If I wanna funk up on the underground, Prince 'When Doves Cry' makes me horny and Fleetwood Mac