Simon Amstell –  "…just some snotty little posh boy,"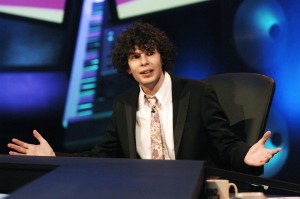 Lee Hudson assesses the man who has given BBC 2's aging quiz show "Never Mind The Buzzcocks" a much needed shot in the arm.
On being announced as the host of "NMTB" Simon was reported to have said that he hoped to beat "the universal, exceptionless rule that when a new host takes over an old show it is a horrible, embarrassing disaster." He had no need to fear. His stupid, irrelevant, mocking and almost libelous questions to his 'celebrity' guests, makes for uncomfortable but 'must see' viewing. Indeed, it was the illustrious Preston from pop band The Ordinary Boys, sometime reality TV contestant and OK Magazine cover star, who walked off of a recording of "NMTB" giving Amstell the unofficial title… "some snotty little posh kid", a reaction the ever clever and bitter Mark Lamar never managed. All Amstell had done was read a few lines from Mrs. Preston's biography… a certain Chantelle – popular un-celebrity winner of the 2006 Celebrity Big Brother. Preston was so shaken with this assault on his missus… words incidentally that she had 'written'… he did a runner to protect her good name. For his lack of smooching up to these celebrity no-names… we like Simon.
When Simon was presenting Channel 4's Popworld, he had the same lack of respect for any of his guests and seemed to go out of his way to burst any ego bubble that they had surrounded themselves with. His interviewing technique was different to say the least. Some times he'd holler to his guest through a loud hailer stood at the other end of a car park or quietly tell some female singing sensation that he thought she was "a bit hard." His unstinting lack of deference for any of his mighty guests gave him a cult following of those who were up early enough on Saturday morning to watch his demolition of the 'Parkinson' style of running an interview; maybe not quite getting away with murder… but almost.
He was also the same about being gay. When a female guest was gritting her teeth at some comment he'd made about her she told him he should use that line on more girls. He just raised an eyebrow and murmured; "That won't be necessary."
His first job however was on kids channel Nickelodeon from which he claims he was sacked for being "sarcastic and mean to children." This was not his first TV appearance however, as earlier, in fact pre-career he was a guest on Andrew O'Connor's game show Family Catchphrase… if that counts.
Meanwhile, as the second series of "NMTB" resumes, and our hero is still unfettered by the BBC, Simon also continues to do his one man stand-up tours, appear at the Fringe and has recently added writing to his credits as he co-scripted an episode of Channel 4's teen 'com-dram' Skins. Those stand-up routines have garnered all manner of praise some from unexpected sources:  The Times; "Simon Amstell is at once the David Dimbleby, Howard Stern and Johnny Rotten for a generation of chart smart pre-pubescents…" through to the normally homophobic Evening Standard; "Subversive anti-hype… clever waspish stand-up."
Apparently he also has an encyclopaedic knowledge of pop music and sort of heads the list for those who are into 'geek chic'. Meanwhile, Simon hates giving interviews preferring to pose the questions rather than answer them but in one interview he was asked: What would a fantasy date include? To which his reply was. "A small monkey wearing a waistcoat and a tiny hat."
Am I the only one who'd pay good money to see that?.