Elton John – Still going strong
Elton John – Still going strong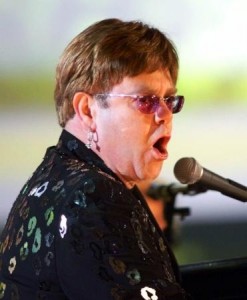 In March this year, Reginald Kenneth Dwight, aka Sir Elton John, will celebrate his 60th birthday. One of music's true global superstars, the lad from Pinner will be the centre of massive media attention and Elton; The Biography will be published to tie in with this milestone.
The author David Buckley has this to say in his introduction to the book:
Elton John has been a blues singer, a singer-songwriter, a glam rock
icon, a drug addict, a married man, a moaner and whiner, a tireless
fundraiser and humanitarian, a married man (twice), a controversialist
and, ultimately, a living legend…
So is all that what attracted you to this particular biographical celebration?
The idea for the book wasn't mine actually.  Lorna Russell at Andre Deutsch asked me to write it and after some persuasion, I said yes.  My allegiance when it comes to Seventies icons has always been to David Bowie, and I tended to look down a bit on Elton.  But having been immersed in his music for over a year, it's been such an education because there are so many great songs people no longer talk about or play on the radio.  I'm also glad I did the book because it's a gift of a story for any writer.  There's simply never a dull moment.  Even the bad albums are fascinatingly terrible!  And what other pop artist alive today is so active and so much in the news?
Any problems with the subject?
We kept Elton's office informed, and their line was that Elton doesn't co-operate with any unofficial biographies.  I still managed to get some really interesting interviews though including Kiki Dee, the percussionist Ray Cooper, and someone called Clive Franks who has known Elton since the 1960s.  I even managed to track down Elton's piano teacher from when he was a teenager!
Any no-go areas?
Of course!  This is my fifth music biography and there always areas which are potentially too sensitive to put in.  Having said that, Elton has been so open about his past behaviour, that what was 'on the record' was mad enough.  He admitted to being addicted to sex, drugs, alcohol, shopping, Haagen-Dazs ice-cream, and Sainsbury's cockles! He admitted to phoning his office when he was in a hotel because he didn't like the noise the wind was making outside his room!  Elton's very honest about himself and that's why the public admire him so much.  His recent interviews in which he takes a stand against what he sees as the homophobia of much of modern society make their mark because of his wit and immoderate language.
Who supplied you with the best insight into Britain's most famous entertainer?
Gary Osborne, and Elton's sound man and former producer Clive Franks were in touch with me on an almost weekly basis and were tremendously helpful with little details which I think no other Elton biographer has been told before. Some of the best interviews came from the people who weren't really part of Elton's inner circle, but somehow remained at a distance.  So, musicians who had played with him, such as drummer Charlie Morgan or guitarist John Jorgensen had more to say than people who still work with him.  One never knows when one starts a project who the most useful contact will be; that's part of the fun.
What are you listening to on your ipod at the moment?
I have an i-river not an i-pod actually!  I only use it in the gym, so often I'm not concentrating because I'm on the verge of cardiac arrest.  But it's always a mixture of new stuff (current faves are Hot Chip, The Killers, Kasabian and an amazing rapping Hassidic Jew called Matisyahu) and stuff from the Seventies and Eighties I grew up with.  As I've got older, I'm no longer ashamed to say I like ELO and Genesis, and both groups feature heavily whilst I'm turning crimson on the cross-trainer!
Who or what's next for you?
I really don't know, maybe something away from writing altogether.  If I did write another music book, I'd love it to be on my first love, electronic pop music, from Kraftwerk and the Human League right up to the present day – the sort of music which still sounds so different.