Who's Who Embraces Gay Partners
It is the reference guide to the great and the good of British society. Every year since 1849 Who's Who has listed those judged prominent enough in public life to be included.
Now, for the first time, among the ossified entries listing the achievements and hobbies of retired civil servants, obscure peers and failed politicians, will be a shining example of 21st century modernity.
Gay and lesbians have for the first time been allowed to list their civil partners in the book, the latest edition of which costs a mere £145.
Who is included is based on choosing people whose "prominence is inherited, or depending on office, or the result of ability which singles them out from their fellows," according to their official website.
There are around 32,000 entries, which are compiled from questionnaires filled in by the subject themselves. Around a thousand new entries are revealed each January to replace those who have died.
For the first time, Elton John's entry in the 2007 edition mentions "husband" David Furnish, while Edinburgh Lib Dem MSP Margaret Smith is listed with partner Suzanne Main. Actor Sir Anthony Sher is listed with partner Greg Doran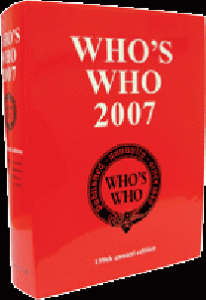 Other notable additions this year include the current Dr Who, David Tennant, presenter Noel Edmonds, former Blue Peter presenter Peter Duncan, who is now the UK's Chief Scout, and Kumars star Sanjeev Baskar.
Transvestite Turner Prize-winning artist Grayson Perry is also included for the first time.