The Gay Classic Car Group and me, by GCCG member Tony Stokoe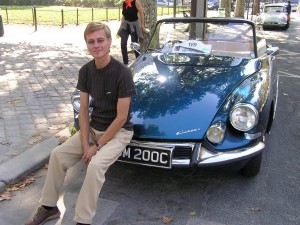 I've had an interest in classic cars for nearly two decades, an interest that has developed into a passion, a passion that is now represented by a modest collection of four classics – three Citroens and a Bentley.  Like most classic car enthusiasts, I am a member of the appropriate car clubs, the 'one marque' clubs dedicated to the interests of my cars. These clubs form a vital link with other enthusiasts and give access to technical information, parts, club magazines and events.  As a gay man, the Gay Classic Car Group gives an added bonus to my passion for old cars and provides another dimension to my interest.  The GCCG offers a classic car 'social club' for my partner and me where we immediately feel we fit in.  The one-marque clubs I am a member of have always made us more than welcome, but the GCCG offers a gay space where we feel less on the perimeter and more able to be open and comfortable amongst like minded individuals who love classic cars and are gay too.
I've enjoyed getting really involved with the GCCG, organising events such as a recent visit to Frankie Howard's former home and the GCCG stand at the NEC Classic Motor Show this year.  The GCCG has nearly 400 members, a great variety of people from different areas, backgrounds and of different ages.  The variety of cars is impressive too, everything from vintage Rolls-Royces and Bentleys to baby Fiats and flash Americana.  Nothing is too weird, wonderful, cheap or trashy – each member is an ambassador for his or her own passion.  The GCCG also has links with similar clubs internationally and we have been on some fabulous events in Europe and the USA.
So what about my cars?  Of the three Citroens I have a lovely 1965 DS19 Decapotable, a 1972 Maserati powered SM and my daily driver, an 1986 CX25 Prestige.  About three years ago I realised a dream and acquired a 1957 Bentley S1 Continental Fastback, the iconic shape created by Mulliner.  The line up really is my dream garage, innovative and beautiful designs representing a 'blank sheet' approach to design and engineering from both Citroen and Bentley.  These cars are moving sculptures, from the days before accountants and safety regulations dictated the way cars look.  It would be nice to have a few more examples of automotive style, if only I had the room and the money and the permission from my partner!  Maybe a pre-war Lancia, or a beautiful 30s Alfa Romeo – the 8C coupe would do nicely.  I can dream on…
If you're gay and love classic cars – ownership is not a prerequisite – check out www.gccg.org.uk.