Noted Lesbian Author Ties Knot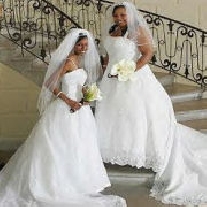 Cheril N. Clarke, author of the lesbian novels Intimate Chaos and Tainted Destiny, married Monica Bey on January 15, 2007. Clarke has been written about in the lesbian magazine Curve, on the lesbian about.com site, and in Crain's New York Business newspaper. They are one of the first New Jersey couples to be taking advantage of that state's new legalization of civil unions.
"Our ceremony and reception was symbolic—a public display (and party) for our family and friends," says Clarke.
Clarke and Bey have been a couple for three years. The site of the wedding was the Oheka Castle, a real-live castle in Long Island, New York. In addition to family and friends, many members of the LGBTQ community attended.
The couple met at the 29th anniversary event for African Ancestral Lesbians United for Societal Change and soon became friends. The proposal, initiated by Cheril, occurred at Manhattan's Stonewall Bistro in Spring 2005. But the couple faced some unforeseen challenges before they could get married:
"The year and a half leading up to the wedding was strenuous for the pair when Monica was suddenly stricken and diagnosed with a muscle disorder and later had a terrible car accident that totaled her vehicle a month before the wedding," according to the press release. However, "through Cheril's love and support, they remained focused for their big day."
Bey is the creator of the South Jersey Gay & Lesbian Social Club, a social network.
Clarke has also written Foundations: A Novel of New Beginnings, and Different Trees From the Same Root; been a keynote speaker at an African Asian Latina Lesbians United conference at Rutgers University; and has another novel and play in the works.