Gordon Ramsay 50th Most Popular Gay Icon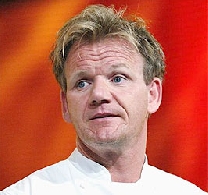 Foul-mouthed footballer-turned-chef Gordon Ramsay has come bottom of a poll of 5,000 gay men and lesbians asked to name a gay icon.
The swaggeringly heterosexual Ramsay, a former Scotland international, clearly has a minority appeal to some gay men.
Australian singer Kylie Minogue came first in the survey, conducted by market research company OnePoll.com
Other unlikely candidates for iconic status included matronly TV presenter Fern Britton (30) and shovel-faced Welsh rugby player Gavin Henson (49).
The bulk of the list is taken up with singers, with usual suspects Barbara Streisand, Cher, Donna Summer, Gloria Gaynor and The Village People making the top 50.
In what is a sad reflection of the obsessions of gay men, the first actual homosexual on the list, Will Young, comes in at a measly 19th place.
He is followed by Elton John at number 20. They only narrowly beat a plastic doll (Barbie at number 21).
Although Cary Grant comes in at number eleven on the list, he denied being gay and in fact sued actor Chevy Chase in 1980 for saying he was.
While some biographers claim Grant was homosexual, there is little proof either way. Grant married five times.
Overall there are only nine gay men on the list, either as individuals or as members of a band. (Young, John, Wham!, Rupert Everett, Westlife, Boy George, The Village People, Steps, Scissor Sisters).
There are no lesbians on the list. That means only 18% of "gay icons" are in fact gay.
TOP 50 GREATEST GAY ICONS
1. Kylie Minogue
2. Dolly Parton
3. ABBA
4. Judy Garland
5. Marilyn Monroe
6. David Beckham
7. Madonna
8. Audrey Hepburn
9. Jordan and Peter Andre
10. Liza Minnelli
11. Cary Grant
12. Victoria Beckham
13. Girls Aloud
14. Barbra Streisand
15. Pink
16. Sharon Osbourne
17. Take That
18. Cher
19. Will Young
20. Elton John
21. Barbie
22. Richard and Judy
23. Cilla Black
24. Simon Cowell
25. Julie Andrews
26. Sister Sledge
27. Wham!
28. Rupert Everett
29. The Cheeky Girls
30. Fern Britton
31. Westlife
32. Beyonce
33. Gwen Stefani
34. Prince
35. Morrissey
36. Blondie
37. Boy George
38. Charlotte Church
39. The Village People
40. Ant and Dec
41. Doris Day
42. Gloria Gaynor
43. Gerri Halliwell
44. Donna Summer
45. Steps
46. The Human League
47. French and Saunders
48. The Scissor Sisters
49. Gavin Henson
50. Gordon Ramsay
Source: onepoll.com