Gay Rumours Denied By Prison Break Pin-up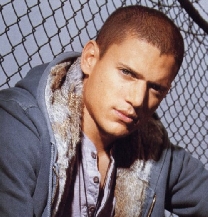 While many continue to raise eyebrows and live in hope, Wentworth Miller has gone on record to categorically deny being gay. The Prison Break pin-up has been dogged by rumours ever since he took his shirt off and well, looked so fine.
The 34-year old hunk was recently in Australia to promote the second season of the cult show which sees the characters achieving their aims with an audacious escape.
So where did the queer theories spring from? Perhaps it's the fact that the series is set in prison, a persistent gay fantasy recently explored by the House of Homosexual Culture.
Maybe the gay community simply assumes that any good looking male is game for speculation. The fact that Mr Miller doesn't have time for a girlfriend certainly helped fuel the gossip.
When asked by US magazine TV Guide if he could see himself settling down with a lady to have children, the dishy actor responded: "Right now, my work comes first. I'm a workaholic, which is the sad truth of it. I did manage to go on a couple of dates over the past year, but I'm happiest when I'm on set, so I really need to get all of that out of my system before I can really turn my attention to more personal matters".
Hmmmmm. Fair enough response if you're carefully evading the question, but surely any red-blooded male with inordinate sex appeal would be banging every model and porn starlet that threw herself in his direction, wouldn't they?
Asked by Australian Associated Press about the rumours regarding his sexuality, Miller remained firm.
"No, I'm not gay," he said.
"I know these rumours are out there … I'm cool with the fact that they exist, I mean this is about fantasy.
"Certain people are going to have certain fantasies, if someone wants to imagine me with a woman, or a man or one of each that's cool with me as long as you keep watching the show."
Thanks for that, we'll imagine you with a man, having rampant sex in prison, maybe with lots of well-endowed men…all at once. Oh, and if anybody is proud to have the heterosexual Miller as a MySpace friend, get real- he has no profile on the networking site.
"I have people calling my agent asking which MySpace page is mine and there are about a dozen," Miller told AAP on a publicity trip to Australia in December.
"And the fact is I've never been on MySpace. People posing as me is a little unsettling, a little frightening… it disturbs me on a profound level."