Gay 'weddings' Top 15,500 In Uk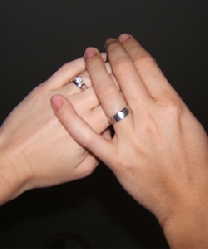 More than 15,500 gay and lesbian couples united in civil partnerships in the first nine months after new laws were brought in the UK.
The Office of Statistics revealed there were 15,672 civil partnerships between December 2005 and September 2006.
There were 14,084 partnerships in England, 537 in Wales, 942 in Scotland and 109 in Northern Ireland.
Almost 2,000 partnerships took place last December when the Civil Partnership Act 2004 came into force.
The act gives same-sex couples rights in areas such as employment and pensions, but the partnerships are not officially regarded as marriages.
On average, 1,621 partnerships took place each month between January and March and this fell to 1,498 between July and September.
London popular
England staged 84% of all ceremonies while Northern Ireland held just 1%. London hosted 25% of partnerships in the nine months after December 2005.
More men have so far chosen civil partnerships, making up 62% of partnerships in England, 57% in Scotland, 56% in Northern Ireland and 51% in Wales.
However, the ONS said the ratio between men and women appeared to be changing.
"The gap between the proportion of male and female partnerships in England and Scotland appears to be reducing over time," the ONS said.
In London, there were around three times as many male partnerships as female partnerships.
Meanwhile, Peter Tatchell, of campaign group OutRage, has called on Chancellor Gordon Brown to protect the benefit rights of gays and lesbians in his pre-Budget report on Wednesday.
He claims rule changes introduced when the Partnership Act became law has resulted in the removal of social security benefits from thousands of same-sex partners who have not taken out a civil partnership, including those who plan not to.
Mr Tatchell wants benefit claimants in cohabiting same-sex relationships to be given transitional financial protection.