Sir Elton May Perform Diana Tribute Song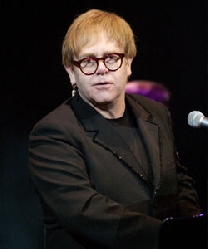 Sir Elton John has revealed he will rehash Candle in the Wind at the Concert for Diana next summer if Princes William and Harry feel it is appropriate.
The gay pop legend rewrote and performed the hit at Princess Diana's funeral in 1997 and vowed never to sing it again, but now he says he will seek royal approval before playing it.
Earlier this week, Princes William and Harry announced a memorial service to be held on August 31st 2007, followed by a tribute concert on July 1st, their mother's birthday.
Performers at the event, named Concert for Diana, to be held at Wembley Stadium, include gay singing legend Sir Elton John, who brought the nation to tears with his rendition of Candle in the Wind, at her funeral.
Andrew Lloyd Webber, the English National Ballet, Duran Duran and Joss Stone have also so far been named on the bill.
Sir Elton told The Sun: "I'll do it if the Princes want me to.
"I am at their service and if they think it is appropriate then I'll be b for it. They'll tell me when they are ready."
The song was originally written as a tribute to Hollywood star Marilyn Monroe.
The Concert for Diana will raise money for Centrepoint and Sentebale as well as the Diana Memorial Fund and her five main charities that she was patron of, or had a great deal of interest in.