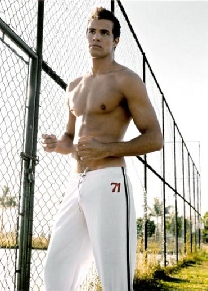 One hot sunny day last summer, I was walking along the towpath of the nearby canal. I was wearing my favourite denim cut-offs, which were so well worn that they looked like a frayed bit of material held together with a few bits of thread. My blue vest was tucked into the waistband at the back, with just a hint of my white cotton pants (and the broad logo of Tommy Hilfiger) showing above my tatty and well-distressed shorts.
God it was hot and although a pint earlier at a canal side pub had cooled me down a little, I was still sweating like the proverbial pig. I had been walking for an hour or so getting further into the countryside, but still not many miles from my hometown, when I decided I just had to take piss. Never one to exhibit myself unnecessarily I turned off the path, down a small embankment and behind some bushes.
As I unzipped and commenced I heard the sound of running feet above me on the towpath but it gave me no cause for alarm. However, the next thing I knew was this young guy almost bumping into me at the bottom of the embankment. He wore a pair of Nike trainers, a white vest and a pair of almost fluorescent yellow shorts that looked like they were made of plastic. His hand was already up the leg and he was pulling out his cock.
"Oops sorry," he exclaimed as he almost started pissing on me. "I'm dying for a leak." I had finished but just stood there making sure the last drops had covered the thirsty nettles, holding my cock and watching my fellow reliever piss high over a nearby fence.
"In some kind of race?" I ventured a question.
"Only with my friend… we're training." He seemed totally unconcerned with me standing watching and I was taking in his fabulous young physique. With his hand pulling at the front of his shorts the effect at the back was sensational. It was like looking at a piece of moulded plastic in the shape of a muscular arse, with the centre seam wonderfully splitting his hunky arse cheeks.
My cock was getting quite rigid, which he noticed and smiled. At that moment there was further sound of running and another body appeared at the top of the embankment where it stopped and looked down. "Ah, there you are. I thought I saw you disappear into the trees."
"I'm having a piss."
"Good idea." And a new body materialised in my private convenience. This one was also wearing running shorts though these were tight, black and very shiny that matched his black Lycra top. He was perhaps a year or so older than my first visitor but there wasn't an awful lot in it. "Oh hi," he said when he saw me standing there… then noticing my cock he laughed, "Stevie getting you excited?" I was taken slightly by surprise by this turn of events but I managed to throw back a "Can you blame me?"
"No way," he laughed back and I noticed he had a gorgeous, unaffected smile. "I might as well join you now I'm here."
"Join in what?" I asked,
"Having a piss… what else?"
This time I wasn't so slow. "I can think of one…" I looked from one to the other "no, two things."
Again he smiled and Stevie was also laughing. "Met your match here Rob."
"I think we should take a few minutes break," Rob said after a moment or two's deliberation.
He sat down under the trees and Steve just looked at my very hard cock. Still smiling, he walked over and gave it a gentle squeeze. Soon he was kneeling down and licking the end of my throbbing dick. Jesus, the feeling was fantastic and I moaned as I gently fed it between his succulent lips and into his waiting mouth. He took it and licked it sensuously, slowly moving his head backwards and forwards and I just stood enjoying this young guy's ministrations. His hands moved up my legs with feather-light touches that made me tremble as he reached for the top of my shorts.
He popped the button and slowly pulled my cut-offs and pants down releasing my cock from his mouth for a split second as he dragged them around my ankles. Rob had his hand in his shorts and I could see the front bulging to be released. He moved over and planted his lips to mine and, as he kissed, slowly rubbed himself up against my thigh. I managed to peer down and noticed the outline of his huge dick straining against the shiny black fabric; already a damp patch of pre-cum was forming.
Stevie was still sucking away and had managed to get me to somehow step out of my shorts completely and was using them wrapped around his cock as he wanked furiously. My hands were now searching Rob's body. I peeled down his shorts and was about to break away, so that I could take his monster cock into my mouth, but at that moment he had other ideas and manoeuvred himself around my back.
Moving up close until he was pressed up hard against me he pulled me back to rest on his body, hands travelling all over my stomach and chest. He kissed my ear, and I twisted my head so we could kiss, his tongue licked and probed my mouth. I could feel him working himself up in the small of my back as his rigid knob slipped along my sweaty arse crack and between my thighs. My sweaty cleft made things easier and although it hurt quite a bit, I was in ecstasy with the two different sensations attacking my brain.
It didn't take long such was the intensity of the situation… Stevie's mouth was still gobbling and sucking as my first spurt shot deep into his throat… Rob wasn't long after. Pumping like a man possessed he fucked me deep, spreading my sphincter muscle wide as his massive, urgent piece of prime meat, filled me up. After a few moments we got our breath back and Rob struggled to push his still quite blood-engorged knob back into his little shorts.
"Come on Steve, another eleven miles yet." Steve looked down at his damp patch and smiled "Yep, I need to dry these off a bit." He then handed me my shorts back and guiltily said that he was sorry as he'd already cum twice whilst he was wanking into my pants. My arsehole was hot and sore from Rob's bombardment so I took the damp and slimy white pants and pulled them on hoping they would cool me down somehow. They didn't. They just clung even more than before to my sweaty arse and as I fastened the button on my cut-offs the guys were already running up the embankment shouting their goodbyes.