Kylie To Stage New Year's Eve London Concert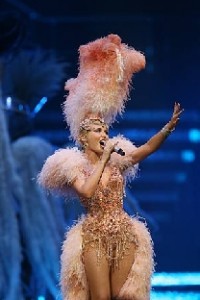 Australian pop star Kylie Minogue, in the middle of a comeback concert tour after recovering from breast cancer, will stage a New Year's Eve concert at London's Wembley Arena.
"This will be the first chance British fans will have to see Kylie's new Showgirl Homecoming Tour, which is currently playing in Australia," said a statement on her official Web site www.kylie.com.
Minogue, a former soap opera actress turned pop princess, is on a 20 concert tour in Australia and was not due to perform in Britain until January 2.
"New Year's Eve will be a lot of fun. I'm looking forward to sharing the count-down with you all. Glam up and I'll see you there," Minogue said in the statement.
The concert, which will feature a dance floor for 3,500 people, will start at 8.00 pm and continue until midnight, with the Wembley bars open until 1.00 am New Year's day.
The 38-year-old Minogue was diagnosed with breast cancer only days before her Showgirl tour in Australia last year.
She had surgery in May 2005 and then chemotherapy treatment in Paris, where her boyfriend, French actor Olivier Martinez, has a home. During her recovery she penned a children's book, "The Showgirl Princess".
She returned to the stage in November, belting out her trademark hits in front of an audience of thousands in Sydney.