Norton Is To Present New Bbc Talk Show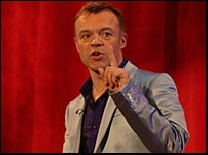 Graham Norton is to present a new talk show on BBC Two next year.
In its press release for 'The Graham Norton Show' the BBC says the programme will be "based on the people, trends, stories and aspects of celebrity culture" that interest Norton the most and promises that it will have "a distinctly irreverent BBC Two feel".
The press release continues: "The show is all about the stuff that you won't see on the 'Ten O'Clock News' – from celebrity guests' anecdotes, through the sillier stories buzzing round the wires to the unique quirks and obsessions of the Norton audience."
The show will have its own website where people can upload material and engage in "shameless self-promotion".
"Great guests, great jokes, great stories and great characters" are promised for the programme.