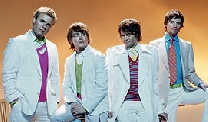 A much older, but obviously no wiser, Take That have landed themselves in hot water by labelling snowboarders and skiers as 'gay'.
The band, who recently graced the cover of Attitude and clawed their way to success by courting the gay community used the term to ridicule the winter sports during a live interview on Radio 1.
BBC Radio One's Jo Whiley asked the foursomewhat they did in their spare time, and Jason said: "I go skiing in my spare time. Snowboarding is a bit gay isn't it?"
Howard Donald replied: "No way, I think skiing is gay. They wear salopettes, those all-in-one suits are definitely gay."
Whiley was obviously concerned by the comments and was forced to apologise for the band's statements after the interview had finished.
She said: "If there was anything that you may have found offensive I do apologise. I don't think the guys meant it to be offensive, they were just joking around."
No doubt they were, and after years of working with their gay manager and trawling round gay discos, it's almost impossible to imagine the boys as anything but totally gay friendly.
Ex-band member Robbie Williams made the headlines after revealing he would have sex with a man – to save a rabbit's life.
Williams has dodged gay rumours throughout his career, insists he would be prepared to bed a member of the same sex to save his own skin or that of a furry animal.
He quipped: "I wouldn't enjoy it but I could do it under pain of death, or if it meant saving a baby bunny from being burned alive."
Their video for Take That's first single, "Do What You Like" featured the band getting naked and smearing jelly over themselves. With a line-up of the boys' bare arses, it's possibly one of the gayest promos ever recorded.
Tony Mortimer of East 17 criticized Take That during an interview with The Sun, describing them as "a Village People tribute band who covered Barry Manilow".
It's even quite possible that due to their pink credentials, the boys feel qualified to bandy the term around. However, put the word 'nigger' in a white man's mouth or refer to a winter sport as being a 'bit Jewish' and people are less inclined to laugh off such comments.
It's not the first time that Radio 1 has found itself a forum for homophobic chit-chat. DJ Chris Moyles was branded homophobic by listeners after he used the word "gay" to describe a ringtone he didn't like.
Stonewall gave him the dubious title of 'Bully of the Year' at their annual awards cenemony. He didn't collect the award in person.
The BBC was also forced to explain itself when Rio Ferdinand called Chris Moyles a "faggot" after asking which of his Manchester United teammates he fancied. The BBC continues to defend Moyles, despite the rise in homophobic bullying in schools.
John Quinn, director of children's charity Beatbullying, agrees: "Using the word gay as a derogatory word further propagates the idea that being gay is a bad thing. The BBC has just greenlighted the use of gay as a derogatory word, therefore it has given credence to the idea that being gay is bad. This low-level homophobia is not acceptable and is outrageous considering how homophobic bullying destroys lives."