Sweden To Open Abba Museum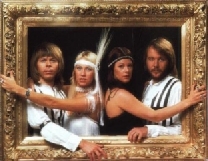 An ABBA museum dedicated to the music, clothing and history of the legendary Swedish pop group and its four members will open in Stockholm in 2008, organisers said on Tuesday.
The interactive museum will feature original outfits and instruments used by the group, handwritten song lyrics, a display of different awards, and "all other things we can think of and find," said Ulf Westman, an event consultant who is spearheading the project with his wife Ewa Wigenheim-Westman.
The museum will also feature a studio where visitors can record their own ABBA songs, and an interactive experience that "will recreate the feeling of being at Wembley stadium and seeing ABBA live with 50,000 others," Westman said.
Organisers are still searching for a suitable location for the museum, but said it will open somewhere in central Stockholm during 2008.
Wigenheim-Westman said the idea was inspired by the Beatles museum in London, but that it took nearly two years to convince the former ABBA members — Benny Andersson, Bjorn Ulvaeus, Agnetha Faltskog and Anni-Frid Lyngstad — that it was a good idea.
The band members will donate the material for the exhibits, but will otherwise not be involved in the project, which will be funded by company sponsors, Westman said.
Stockholm's mayor Kristina Axen Olin said the museum — which is expected to draw 500,000 visitors a year — will make the Swedish capital a more popular tourist attraction for the millions of ABBA fans around the world.
"As a Stockholmer, this is what you have been missing," Axen Ohlin said at a news conference to unveil the plan. "We are convinced that this is important both for Stockholm citizens and for marketing the city."
ABBA is one of the most successful bands in history, having sold more than 370 million albums.