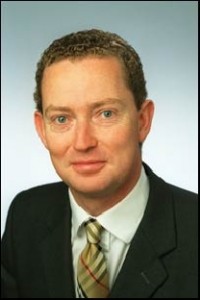 The gay Tory MP who hit the headlines for having an affair with his interior designer after splitting from his wife has responded publicly to calls for him to resign..
Greg Barker, MP for Bexhill and Battlehad separated from his wife when his relationship which has now ended, became public.
Some local party activists have accused him of shaming the party, a rich stance considering the public perception of the Conservatives. Some might say that a gay frontbencher might bring the party the credibility it really needs.
Interviewed on BBC South East Today, he said most people had been "kind and understanding" and he would stay on.
"I find that all the constituents that I talk to want me to get on and sort out their problems and are fed up with hearing about mine," the environment spokesman said.
Some Conservative party members said their trust in their MP had been tested. One member, Angela Sheppard, said she would like him to do "the honourable thing" and resign.
"I think he's embarrassed the party and he's acted dishonourably, and I have no faith now in his judgement or integrity," she said.
Another party member, Roger Kent, said he had been stopped in the street by people who wanted Mr Barker to resign.
"We're concerned that what is now a safe seat might no longer be a safe seat," he said.
But Mr Barker, who was elected to the House of Commons in 2001, said he was "very sorry that certain individuals feel like that".
"By and large, people in the constituency have been extremely kind and understanding… if I believed everything that's been written about me in the papers I might think the same thing," he told the BBC.
"At home, although we have separated and it's been very sad… my wife has been incredibly supportive… but we're doing our best to keep our private life private."
Mr Barker said he had been very touched by the amount of support he had received at Westminster.
When asked if he would stand down, the MP replied: "No."