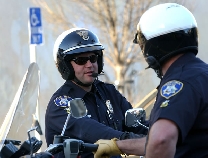 A straight former police officer is suing the Los Angeles Police Department, alleging she was fired after she complained about discrimination by her gay supervisors, City News Service reports.
Cindy S Perez is alleging wrongful termination and sexual orientation discrimination in her suit and is asking for unspecified general and punitive damages.
According to her court papers obtained by the news service, Perez was aware that the LAPD's Pacific Division, where she worked, "was and had been a lesbian-friendly environment and had treated nonlesbian females…differently."
Heterosexual female officers at the division were targeted for harassment and negative employment actions and were not given the same opportunities as lesbians, she alleges.
Perez alleges in her suit that she was "ostracized, harassed, and transferred to another assignment" after she filed a misconduct complaint against a lesbian sergeant with a history of sex discrimination complaints against her.
She also claims that she was falsely accused by a lesbian lieutenant and a male sergeant of pointing her gun at an officer she was training in December 2003. Those allegations ultimately led to Perez's firing by Chief William Bratton in July 2005, according to the lawsuit.
"This termination was discriminatory and was in retaliation for reporting and opposing discrimination and harassment," Perez stated in papers filed with the state Department of Fair Employment and Housing last November. The department has declined to comment.