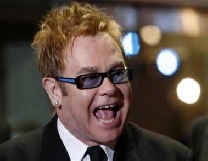 Sir Elton John has said "Up yours" to Australian Prime Minister John Howard – over his views on gay marriage.
The pop superstar made the remark when asked what he would like to say to Howard regarding the country's ban on same-sex marriages, during an interview on Australia's Seven Network today (30.11.06).
Elton – currently on his twelfth tour of Australia – was one of the first British men to tie the knot in a civil partnership with long-term partner David Furnish last year.
The 59-year-old musician told the TV network: "It was just a commitment I wanted to make because I love him, and vice-versa, and it was just a great day."
Howard's conservative government is against gay marriage and civil unions which would give gay couples the same legal rights as married heterosexual couples.
This is the latest in a string of gay rights rants made by Elton.