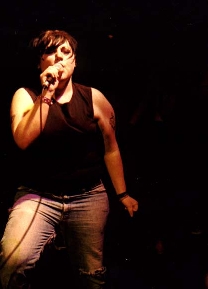 Lesbian singer, Beth Ditto of the US punk band Gossip is the first woman to come in at No. 1 in NME's annual Cool List. Gossip are a refreshing dance/punk/garage rock/soul/indie group and Miss Ditto is a15-stone lesbian activist from Arkansas.
Last year's leader was the Arctic Monkeys' Alex Turner, while Pete Doherty was top in 2004.
Jonathan Ross invited the band on to his BBC chat show to perform their single Standing In The Way of Control. The raucous record is fantastic, stinging an attack on Republican politicians' opposition to gay marriage. Ditto's self assured performance outshone the A-list guests on the Ross celebrity couch.
Ditto first courted controversy after saying that she wasn't surprised by the spate of pupil shoot-outs because depressed teenagers didn't receieve the help they needed from the authorities.
Her Deliverance-style upbringing is verified by an interview she gave to PopMatters:
"The first time I ever got stoned was with my cousin. We were like 13 and 14. We smoked out of a Coke can, and then he flung open the back side door and took out his BB gun and started shooting outside. I was like, 'What are you doing?' And he's like 'What do you mean?' And I look out the door and he's shooting squirrels.
"And then I'm like, 'Oh my god.' And then he goes and gets them, skins them, and fries them up, because he has the munchies. Swear to God. True story. That is what makes me and Nathan so much different from the White Stripes."