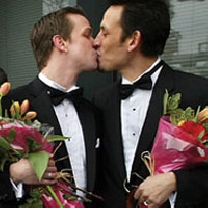 Britain risk becoming out of step with the rest of the world after yet another country gave its backing to couples in same sex marriages, a campaigner warned today.
Israel's High Court of Justice this morning ruled that gay couples legally wedded abroad can be registered as married in the population registry, echoing support for gay marriage in Sweden. South Africa and the US state of New Jersey, in what Sue Wilkinson says will make Britain look "discriminatory."
Earlier this year, the High Court in London, rejected calls for Ms Wilkinson and her partner Celia Kitzinger to have their gay marriage recognised in the UK, arguing that marriage could only be defined as a male-female union.
But Ms Wilkinson says today's ruling could bring new light to her campaign, she told PinkNews.co.uk: "It's good news for the equal marriage movement worldwide
"If you look at the world stage, there is no doubt that the UK judgement was a conservative one. I hope this will make it easier for us to pursue our campaign or make it easier for others to challenge Britain's discriminatory system"
Rabbi Roderick Young, who recently married his boyfriend in Canada, said the ruling puts Britain to shame, he told PinkNews.co.uk: "It is wonderful news that the Israeli High Court has decided that the State of Israel should recognise same-gender marriages conducted abroad.
"The prophet Isaiah called upon the people of Israel to be a light to the nations — in this instance Israel is living up to the prophet's demand. Israel today has put Britain to shame, for it was a disgrace that the Canadian marriage of Celia Kitzinger and Sue Wilkinson failed to be recognised by the UK's High Court earlier this year.
"This ruling should give hope to gay couples the world over that justice can prevail in the end."
The Israeli petition filed by five gay couples married abroad was approved by a majority of six judges in favour and one against giving them the same status as heterosexual couples who marry in civil ceremonies outside of Israel.
The petitioners demanded that the Interior Ministry's population registry register same-sex couples married abroad as married couples after presenting a verified marriage certificate from the country they were married in.
Former Supreme Court President, Aharon Barak, who wrote the ruling, explained that the court is not interfering in decisions made by different countries regarding the recognition of homosexual couples. Supreme Court President Dorit Beinish supported Barak's ruling.
Civil marriages cannot be performed in Israel because family law in the country is governed under the jurisdiction of religious institutions but couples married in civil ceremonies abroad have all the rights of a married couple, and their marriages are registered in Israel.
Israeli law stipulates a couple must be married to adopt a child, so the main practical benefit for gay married couples will be the ability to adopt a child. They will also get the same tax breaks as a heterosexual married couple.
The Association for Civil Rights in Israel which successfully filed the petition on behalf of the couples, argued before the court that the Interior Ministry's refusal to register them as married compromises their right to equality and to hold family life.