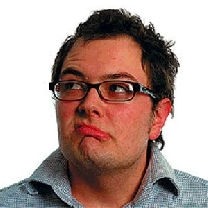 Alan Carr and Lionel Blair rushed to help a man about to jump off a Blackpool pier.
The gay comedian and the dancer had just finished filming a pilot programme when they heard a man was on the brink of falling from the North Pier.
The BBC reported the man was holding on by his fingertips as the entertainers rushed to reach him.
Police said the man was unharmed and was now at home with his family.
The pair had just finished filming Alan Carr's End-of-the-Pier Show in North Pier's Sun Lounge when the drama unfolded.
"The guy that looks after the pier came running into the bar where we were having a drink and said: 'Can anybody help me? There's a guy trying to commit suicide'," Mr Blair told the BBC.
"We got his hand and said, come on, you don't want to die. You can't do that. Listen to us.
"He did a double take, but then said: "No I want to go". So I got one arm and Alan got the other."
The pair then pulled him back up from the edge as the police began to arrive.
Lancashire Police confirmed there was an incident at the North Pier. They said a man was arrested but then returned uninjured to the care of his family.