Bendy Gay Pop Star Tipped For Success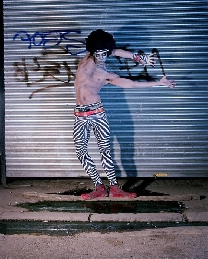 Meet Rubber Johnny Rotten, possibly Britain's first double-joined bisexual pop star!
He's part of what seems to be the escaped cast of a Victorian circus sideshow, ready to storm the charts and there's nothing any of us can do.
Welcome to the world of Beatfreakz, led by teenage dwarf Mekill Hacksaw. He dreamed up the idea for the group and called in his oddest friends and associates to make up the numbers. As a solo entity, he created top three stormer, Somebody's Watching Me.
Now 3ft 3in Mekill is back with his gang including Justin Bleedin' Tallerbloke, 7ft 5in of thrashing percussionist, contortionist Creepin' Curly Minogue on keyboards and the filthy Gorgeous Twizzor Sisters on backing vocals.
And 20-year-old wiry customer Rubber Johnny Rotten, who employs his double-joined limbs to bizarre effect when it comes to playing the bass.
Beatfreakz release their single, Superfreak, on October 9, on Data records, and they're doing PAs at clubs all over the UK
Johnny said: "We all used to hang out down the cemetery. This is just me, I'm like this whatever I'm doing. I don't go home and put normal clothes on. We're just being ourselves.
"I worked as a dancer and a contortionist, here, there and everywere. Pretty much every joint I can bend in a different way. I found that out pretty early on in life. Being double jointed makes me a freak in bed as well as onstage. Well, I've managed to master two thirds of the Kama Sutra.
"I'm everything, well I'm bisexual. I've known since I was seven, I've always known I was different. I remember the first boy I kissed, it was in the music room at school, I was 15. Was he as freaky as me? Not quite, he's a graphic artist now."