Bb Pair At Mr Gay Uk Final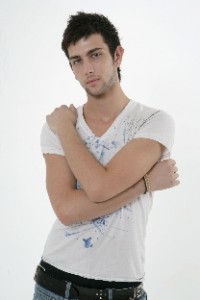 Richard from Big Brother and the lovely Lea will be a fabulous double act at the grand final of Mr Gay Uk next Friday, September 29.
Sexual terrorist Mr Newman is the compere for the evening and Lea joins the judging panel.
The event is at the Flamingo Club, Blackpool. A total of 25 regional finalists will compete to be crowned Britain's sexiest gay man.
The winner will scoop a prize package worth £5,000 and embark on a year in the limelight, with interviews, photoshoots and personal appearances.
Other celebrity judges include Anita Dobson, Su Pollard and Rowetta. To book tickets, priced £8, in advance, call 01253 624901.
Mr Gay UK is the male equivalent of Miss World, the chance for the country's cutest boys-next-door to get on stage and show off.
At regional heats, contestants chatted on stage about their likes, dislikes, hobbies and job, then a panel of judges chose their favourite, based on looks and personality. Vying for the title are a journalist, a policeman, a sailor, a lifeguard and a town planner among others, from all walks of life.
Prizes for Mr Gay UK 2006 include VIP places for four people on the UK's first ever gay cruise, The Big Cruise, next May, a professional photoshoot for the Mr Gay UK calendar 2007 on location in Gran Canaria, with Man Around Holidays, £1,500 cash and a trip for two to Italy with Alternative Holidays
Second and third prize winners will also get holidays to Club Tucanes, with Sensations Holidays.
Pride is the real motivator behind Mr Gay UK, the competition is a celebration of young, good-looking gay men achieving their goals in life and acting as role models to inspire others.
Male beauty pageants began in America in the early 1980s. Mr Gay UK has been around since 1984, and was taken over by Leeds businessmen Terry George and Michael Rothwell in 1993.
They built up the contest and made it a truly national event. It's attracted plenty of TV coverage and media interest every time it's held.