Who needs Barcelona? Adrian Gillan flies Monarch and finds his hands full enough, with cute Catalans and their equally handsome international admirers, in nearby boy-brimming Sitges!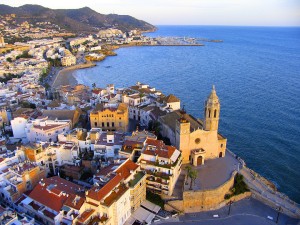 It's come full circle in Sitges! From Roman party town 'Subur', to fishing hub wooing arty Bohemians, leading onto Franco-defying carnivals and back to parties galore in one of the gayest places on Earth!
With 300 days of sunshine annually, attracting the well-to-do and serious revellers alike, world-famous gay mecca, Sitges, just 20 miles southwest of Barcelona, has variously been called "Ibiza in miniature" and the "Spanish San-Tropez". Nestled 'tween the hilly Garraf Massif and the Med, and renowned for its 26 beaches, nightlife, shopping, history and art, around a third of the town's 26,000 permanent inhabitants are British, Dutch, French or Scandinavian! Home from home!
And you can oh-so-easily join them for a few days too, with Monarch (www.monarch.co.uk) operating great-value flights to nearby Barcelona out of Birmingham, London Gatwick, Leeds Bradford and Manchester airports! Scarce 2 hours in the air and… almost there!
You then make the ½-hour max journey from Barcelona airport T1, by cheap, regular, direct MonBus.
STAY & EAT
Stay at fab 3-star Hotel Subur (Paseo de la Ribera s/n, C/ de la Bassa Rodona, Sitges; T: +34 93 894 0066; www.hotelsubur.com), recalling the Roman 'party town' of the same name! Surely the most perfectly positioned of hotels in Sitges, slap-bang on the sea promenade, mere metres from the main gay beach plus all the gay bars! A sponsor of Gay Pride Sitges, 'gay-friendly' would be a bit of an understatement! Pet-positive too! Its rooms – some facing inwards, others outwards, some with balconies, some with sea views – all have air-conditioning, free Wi-Fi, satellite TV and en-suite bathrooms. Enjoy the hotel's little sun roof terrace during the day 'n all!
Peckish? The Hotel Subur boasts its own Sports Bar (www.sportsbarsitges.es) bar-restaurant downstairs on the sea promenade where you can have breakfast, brunch, lunch or dinner – think hamburgers, pizzas, pastas, salads, fish and the like! Watch the world drift by outside on its seafront terrace; or maybe just nurse a drink inside, while enjoying a footie match or other sports event, surrounded by fun sporty decor and artefacts!
If, nay when, hanging at the gay beach just over the road, try out the Subur's fabulous sister bar-restaurant PIC NIC (Passeig Maritim, www.restaurantpicnic.com), seated there sipping cava whilst snacking on fine fresh fish tapas and gorging on the gorgeous well-nigh naked bodies out on the sunny sands, set against a sparkling sea!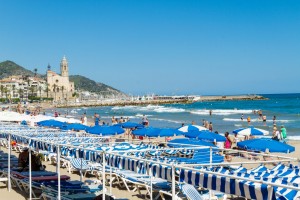 SEE 'N DO
Unlike many Spanish resorts – perhaps since already long-established as a getaway for more affluent Barcelonans and trans-Atlantic merchants since the 1800s, not to mention 19th Century artists – Sitges weathered the mass tourist boom of the 60's and 70's and thankfully still retains a strong sense of its own history and charm.
Check out the 300-year old landmark Parish Church, known locally as 'La Punta', high-fiving the lucky mermaid statue at the foot of its dramatic steps; the Museu Maricel and the Museu Cau Ferrat, displaying paintings by the likes of El Greco and Picasso, plus local archaeological finds; the ornate Maricel Palace; and the so-called 'American' Art Nouveau / Modernist houses, oft named after their entrepreneurial owners who made their fortunes in 19th Century Cuba.
Between the Parish Church at one end of the promenade and the former Terramar Hotel at the other, there are nine breakwaters, all with gently sloping golden beaches in between them, the Med on one side, beautiful waterfront mansions on the other. Classy boat- and bar-brimming port/marina too, a short stroll north along the coast!
Cheers: to the seafront monument to local boy Facundo Bacardí Massó, creator of Bacardi rum – born here in Sitges! Maybe pop into the interesting Casa Bacardi (www.casabacardi.es), housed in the impressive former indoor market.
BOOZE 'N CRUISE
Little Sitges punches way above its gay weight in the scene department, with literally dozens of homo haunts closely clustered in the centre. It's Spain, so many will be dead pre-midnight. A cut above Gran Can or Ibiza, it tends to be a slightly older, tad wealthier and more truly international crowd here, none the less fun-seeking though! You might try…
Bars
Clubs
Saunas
Cruising & beaches
Playa de la Bassa Redona – central gay daytime beach.
Playa el Espigón / de l'Estanyol – cruisy night beach, one beach west of the central gay beach. As ever, take care!
Playa del Muerto – nude daytime gay beach, with cruisy woods to rear, beyond the former Terramar Hotel to the west of Sitges. Note: Sitges' other two nudist beaches – Platja dels Balmins and Platja d'Aiguadolç – are more gay-straight mixed, just east of town.
Although it's forever party-party-party in Sitges today, do note the anti-homophobia Pink Triangle Monument, commemorating the brutal beating and death of a gay waiter during a thankfully brief homophobic period, incited by an extreme right-wing local government, back in the mid-1990s.

A GAY FISTFUL OF FESTS!
Sitges has a festival on almost every week of the year, from its 50-year-old world-famous Sitges Film Festival (next 5-15 Oct 2017; www.sitgesfilmfestival.com) to newbie "video mapping" fest LumenSitges (www.lumensitges.cat). Mega famous Sitges Carnival (next 8-14 Feb 2018; www.carnavaldesitges.com) is an annual over-the-top week-long pre-Easter fest with parties and parades galore – a heady mixture of Catholicism and paganism, going berserk pre-Lent! Not specifically gay, yet still gay as they come! Even Franco couldn't shut it down! Beyond which, there's a whole clutch of more specifically queer fun throughout the year…
BOX OUT: BARCELONA
You know… that place near Sitges!
Only 30-60 mins max away from Sitges by train, bus or car, why not visit the famously buzzing Catalan capital – especially if you're on a longer stay? If you just make a day-trip, check out all-things-Gaudi (the Modernista architect and designer supreme), notably his spectacular-yet-unfinished Sagrada Familia cathedral, plus residences like La Pedrera apartments and Casa Batlló; the busker, boutique and eaterie-brimming  pedestrian thoroughfare that is La Rambla; the Liceu opera house; the Old Port, transformed post-1992 Olympics into the trendy Barceloneta district with its beaches and fish restaurants – and from where you can take a cable-car ride up to the Montjuïc hill for the main 1992 Olympic sites, and fab views back over city and harbour. And then there's the city's massive scene!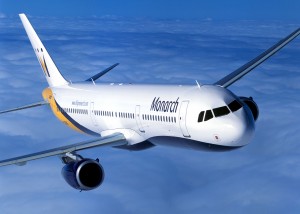 OTHER USEFUL CONTACTS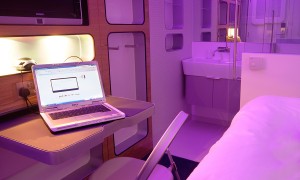 Comments via Facebook
comments