Grayson Perry: Who Are You?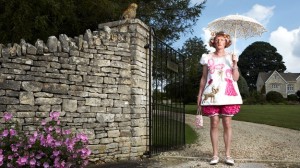 A striking display of new works by artist Grayson Perry, interspersed among the nineteenth and twentieth century Collections of the National Portrait Gallery, will open on Saturday 25 October 2014 Sponsored by Coutts.
Focusing on the theme of identity, Grayson Perry's new portraits – which include a major tapestry, sculptures and pots – are of individuals, families and groups who are all trying to define who they are in modern Britain.
Politician Chris Huhne, a young female-to-male transsexual, a couple living with Alzheimers, a young Muslim convert and X-Factor and Celebrity Big Brother contestant Rylan Clark are among the subjects of the display by the Turner Prize-winning artist and BAFTA Award-winning broadcaster.
The new works were created during the making of his Channel 4 series Grayson Perry: Who Are You? which follows the artist as he spends time with people who are at a crossroads or crisis in their own identity, and makes works that try to capture each of them in a single, revealing image.
The portrait of disgraced politician Chris Huhne is a vase decorated with a repeating pattern of motifs such as his face, his personalised number plate and a speed camera. The ceramic pot was purposefully smashed by Perry and then repaired using the Japanese kintsugi technique, where the cracks are repaired using lacquer resin dusted or mixed with gold.
The Huhne Vase is displayed opposite portraits of Gladstone and Disraeli while nearby The Earl of Essex, a Hilliard-inspired miniature of X-Factor contestant Rylan Clark (in porcelain, digital transfer, electro-formed metal and acrylic), is displayed in a showcase between the Gallery's cabinet portraits of novelists George Eliot and Wilkie Collins.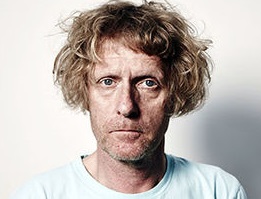 The display begins with an etching self-portrait as a fortified town Map of Days and a huge tapestry Comfort Blanket, a portrait of Britain which the artist describes as 'a portrait of Britain to wrap yourself up in, a giant banknote, things we love, and love to hate.' The Ashford Hijab, a silk screenprint, shows Muslim convert Kayleigh Khosravi and her children on the path from what Grayson Perry describes as 'the temple of consumerism' of the Ashford Designer Outlet Centre to the focal point of her Muslim faith at Mecca.
Three glazed pots depict Modern Family, Jack and John, white male parents who have adopted mixed race Shea; Memory Jar showing Alzheimer's disease sufferer Christopher Devas and his wife Veronica and Idealised Heterosexual Couple, divorcees who live apart but whose family is brought together through its love of ballroom dancing classes, meaning father Colin sees more of his daughters that many a live-in father.
I am a Man, a small patinated brass portrait of young female-to-male transsexual Alex, echoes the Kensington Gardens statue of Peter Pan and is in the style of some of Perry's favourite sculptures, the Benin bronzes of West Africa. It is displayed close to The Line of Departure, a tapestry in the style of an Afghan rug which shows three wounded war veterans, in a room surrounded by the Gallery's portraits of Baden Powell, Florence Nightingale, Mary Seacole and soldiers Lord Kitchener and Frederick Barnaby. Jesus Army Money Box, a glazed ceramic reliquary in the form of a mediaeval style Chasse, a small enamelled chest containing a holy relic, depicts a Christian group that works with homeless people.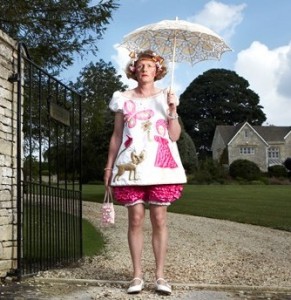 The Channel 4 series and display coincide with the publication of Grayson Perry's new book Playing to the Gallery: Helping Contemporary Art in its Struggle to be Understood published in the autumn by Penguin.
Grayson Perry says: 'I have always been interested in the things we tend not to think about or take for granted, like our sense of aesthetic taste. In this show I investigate our slippery sense of who we feel we are. Identity seems to be something that is only an issue when it is threatened or problematic in some way. I have chosen as my subjects individuals, families or groups who are in situations that highlight certain aspects of being human. I am hoping that they will throw some light on experiences that we all share. With the artworks I have made I have attempted to portray the identity narrative of the subjects, the ongoing process of 'being ourselves'.
Sandy Nairne, Director of the National Portrait Gallery, London, says: 'Grayson Perry makes fascinating and sometimes provocative portraits, and these brilliantly unconventional portraits will sit alongside the National Portrait Gallery's collection as part of an excellent collaboration with Channel 4.'
John Hay, Commissioning Editor, Arts for Channel 4, says: 'No-one can diagnose the British quite like Grayson, and these new programmes take his investigations in a deeper and more personal direction. We're delighted to be collaborating with the National Portrait Gallery on his return to our screens, and excited that these fantastic new works will be on display in some of their grandest galleries.'
Winner of the 2003 Turner prize, Grayson Perry is one of Britain's best-known contemporary artists. He works with traditional media; ceramics, cast iron, bronze, printmaking and tapestry and is interested in how each historic category of object accrues over time's intellectual and emotional baggage.
Grayson Perry is a great chronicler of contemporary life, drawing viewers in with beauty, wit, affecting sentiment and nostalgia as well as fear and anger. His hard-hitting and exquisitely crafted works reference his own childhood and life as a transvestite while also engaging with wider social issues from class and politics to sex and religion.
Images: Channel 4
Comments via Facebook
comments